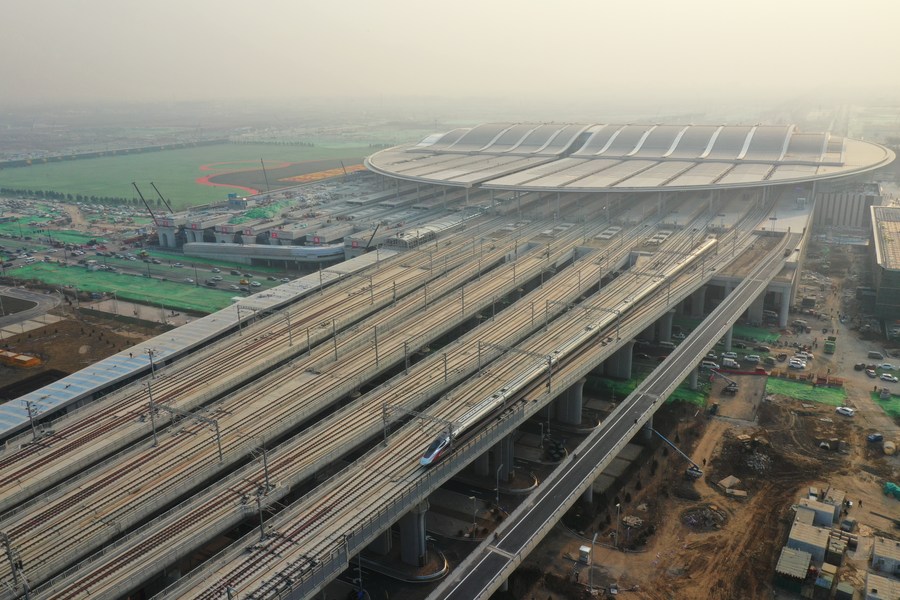 Aerial photo shows a trial bullet train pulling out of the Xiongan Railway Station, which is along the railway linking Beijing and Xiongan New Area, in Xiongan, north China's Hebei Province, Dec. 26, 2020. (Xinhua/Mu Yu)
BEIJING, Feb. 26 (Xinhua) -- China launched a new fund of 50 billion yuan (about 7.73 billion U.S. dollars) on Thursday in China's northern port city of Tianjin to boost the coordinated development of Beijing-Tianjin-Heibei region, reported Tianjin Daily on Friday.
According to the city's economic planner, the fund has an initial capital of 10 billion yuan, fully underwritten by the local governments of Beijing, Tianjin and Hebei, as well as China Development Bank (CDB).
The fund is part of efforts to boost the coordinated development of Beijing-Tianjin-Hebei region, relieving Beijing of functions non-essential to its role as the national capital.
Responding to the national strategy of regional coordinated development, the new fund will support relocation of enterprises, education and medical institutes from Beijing to Xiongan in Hebei Province. The fund will also support major projects in manufacturing, infrastructure construction, transportation and industrial upgrading, said an official with Tianjin's development and reform commission.
(Edited by Li Shimeng with Xinhua Silk Road, lishimeng@xinhua.org)