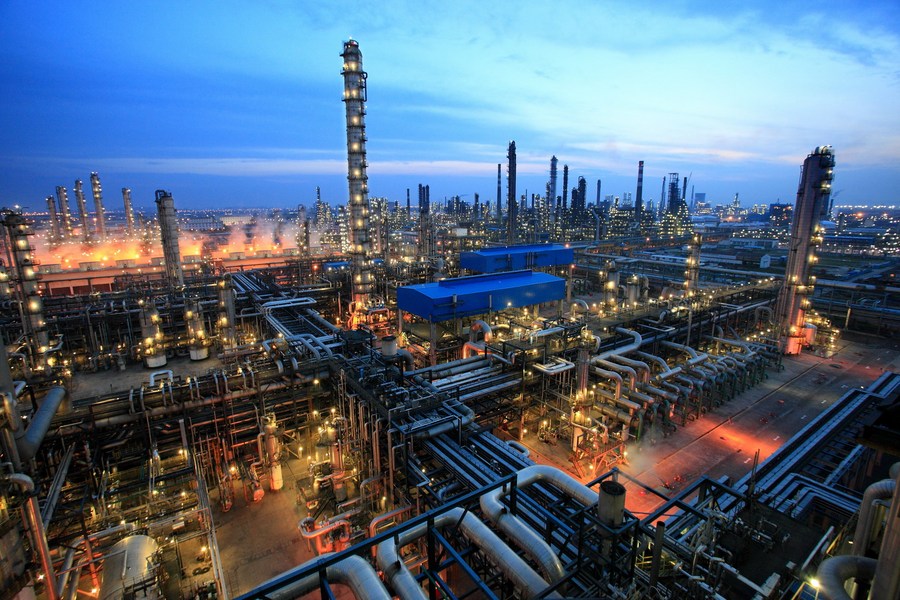 File photo shows an ethylene project at Sinopec Zhenhai Refining and Chemical Company in Ningbo, east China's Zhejiang Province. (Sinopec Zhenhai Refining and Chemical Company/Handout via Xinhua)
BEIJING, Feb. 24 (Xinhua) -- China Petroleum & Chemical Corporation (Sinopec), one of China's largest oil refiners, announced on Tuesday that it has jointly set up a research center on carbon neutrality and green technology with Chinese Academy of Sciences (CAS), one of the country's top research institutes, to help reach carbon neutrality.
The research center is established by the CAS and two subsidiaries under Sinopec, namely Sinopec Yanshan Petrochemical Company and Sinopec Engineering Incorporation (SEI).
The three parties will strive to build a world-class carbon neutrality research center and low-carbon demonstration zone, by promoting large-scale commercialization of scientific and research findings and empowering talented researchers, based on their respective strengths in technological innovation, engineering and industrial application.
China's CAS and Sinopec are both pioneers in respond to the country's campaign towards carbon neutrality. The CAS unveiled the country's first-ever research center to provide support for reaching the national target of carbon neutrality in last December, while the Sinopec also teamed up with some other research institutes including Tsinghua University to explore ways to achieve CO2 emission peak and carbon neutrality in the refining industry in last November.
China has been a staunch upholder of the Paris Agreement and an active player in global cooperation on climate change. It has vowed to have CO2 emissions peak before 2030 and achieve carbon neutrality before 2060.
(Edited by Li Shimeng with Xinhua Silk Road, lishimeng@xinhua.org)