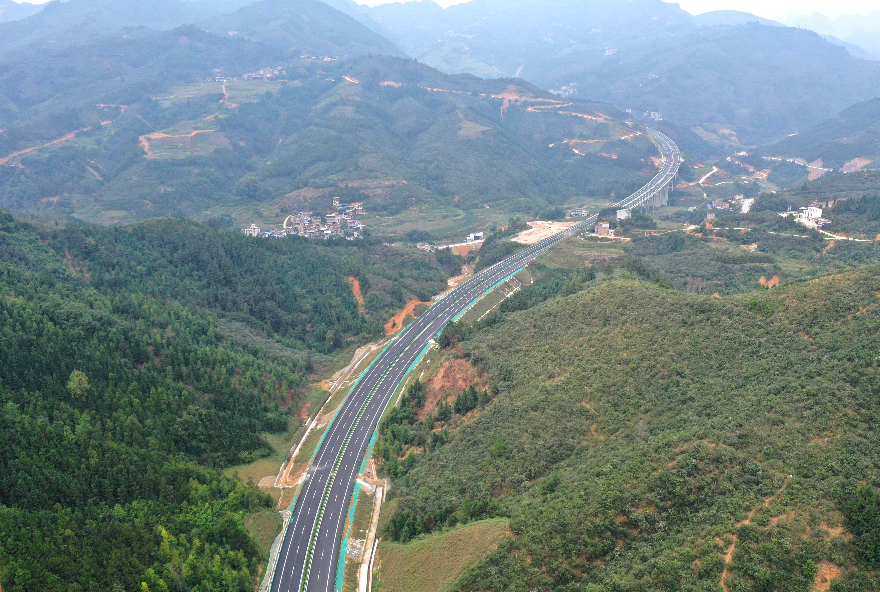 Aerial photo taken on Nov. 6, 2019 shows a section of an expressway linking Leye County and Baise City in south China's Guangxi Zhuang Autonomous Region. A full-coverage rural highway network connecting townships and administrative villages by tarmac or cement roads has been set up in Guangxi. (Xinhua/Zhou Hua)
BEIJING, Feb. 22 (Xinhua) -- A large number of cement enterprises have recently raised the prices of the cement clinker, signaling that the domestic cement market may see an uptrend in prices earlier than previous years, according to the Shanghai Securities News on Monday.
Tongling Shangfeng Cement Co., Ltd in east China's Anhui Province, on Feb. 19 announced to raise the clinker prices by 30 yuan per metic ton (tonne).
"In the past, regions along the Yangtze River saw rises in the clinker prices mostly in April and May. It is rare to see the price hike by Shangfeng Cement in February," said an industry insider.
Industry analysts believed that the good weather in the regions has created good conditions for the production resumption. At the same time, due to the country's efforts to encourage the people to stay put during the Spring Festival holiday from Feb. 11 to 17, many factories were still in operation during the holiday. The cement market after the holiday is expected to start intensive transactions earlier than it used to be, which will boost the demand.
Meanwhile, with the effective control of the epidemic, some cement enterprises in Shijiazhuang, capital city of north China's Hebei Province, also raised cement prices on February 19.
Earlier, around February 7, the leading cement enterprises in southwest China's Chongqing municipality substantially increased cement prices by 50 yuan/tonne.
According to a report recently released by Credit Suisse, it is estimated that the average cement shipments in the first quarter of this year will increase by about 20 percent year-on-year, given the construction of numerous infrastructure projects. (Edited by Hu Pingchao with Xinhua Silk Road, hupingchao@xinhua.org)