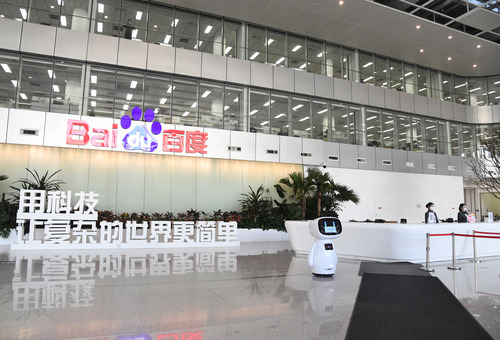 Photo taken on March 19, 2020 shows the interior of Baidu technology park at the ZPark Phase 2 in Haidian District of Beijing, capital of China. (Xinhua/Ren Chao)
BEIJING, Feb. 19 (Xinhua) -- China's Nasdaq-listed internet giant Baidu on Thursday reported that it achieved better-than-expected performance in revenue and net profits in the fourth quarter of 2020 and in the whole year.
In 2020, Baidu saw a total revenue of 107.1 billion yuan (about 16.56 billion U.S. dollars) and net profits of 22 billion yuan.
In the fourth quarter alone, the company raked in a total revenue of 30.3 billion yuan and its net profits stood at 6.9 billion yuan.
Of the quarterly total, non-advertising revenue stood at 4.2 billion yuan, a year-on-year increase of 52 percent, which indicates that AI businesses such as AI cloud and smart driving, have become the new driving force of the company's mid- and long-term development.
In terms of users, the internet giant said monthly active users of its Baidu App reached 544 million and daily logged in users hit over 70 percent as of December 2020, up 18 percentage points from a year ago.
The year of 2020 marks the eighth year of the company's exploration in the smart driving industry. According to the report, after it has gained the first road test permit in China, Apollo, its self-driving division, was granted road test permit in California of the United States, making Baidu the only Chinese company in the industry that could conduct road tests in both two countries.
Apollo also teamed up with ten automakers in China and beyond to seek more possibilities in smart driving solutions such as highly-accurate navigation.
It is expected that the company will secure a revenue of about 26 billion yuan to 28.5 billion yuan in the first quarter of 2021, with 15 percent to 26 percent growth on a yearly basis.
(Edited by Li Shimeng with Xinhua Silk Road, lishimeng@xinhua.org)