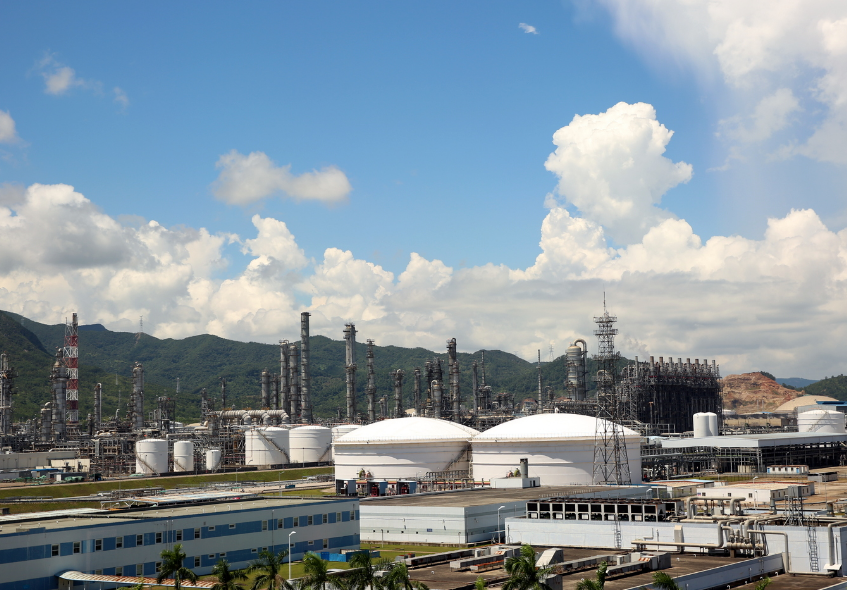 Undated file photo shows the Huizhou Dayawan Petrochemical Industrial Park in south China's Guangdong Province. (Huizhou Information Office/Handout via Xinhua)
BEIJING, Feb. 8 (Xinhua) -- China's petrochemical industry witnessed sharp declines in both revenue and profits in 2020.
According to the statistics recently released by the China Petroleum and Chemical Industry Federation (CPCIF), the country's petrochemical industry achieved profits of 515.55 billion yuan (about 79.7 billion U.S. dollars) in 2020, down 13.5 percent year on year, and its revenue dropped 8.7 percent on year to 11.08 trillion yuan.
Fu Xiangsheng, vice president of the CPCIF, attributed the declines to the outbreak of COVID-19 pandemic, which has spread globally and dealt a heavy blow to the world economy.
It is worth noting that the domestic chemical sector achieved a profit of 427.92 billion yuan last year, a year-on-year increase of 25.4 percent, better than the industry average.
In 2020, the domestic oil and gas production and apparent consumption continued to grow steadily.
According to the CPCIF data, China's crude oil output stood at 195 million tonnes in 2020, a year-on-year increase of 1.6 percent, maintaining a second year of consecutive growth. Its natural gas output was 188.85 billion cubic meters, a year-on-year increase of 9.8 percent.
Meanwhile, output of major chemical products such as caustic soda, ethylene, pure benzene, refined methanol, synthetic resins and copolymers also continued to grow.
From the perspective of the consumer side, the consumption of major petrochemical products suffered a sharp setback in the first quarter, and gradually recovered after the second quarter. The consumption maintained a growth trend throughout the year.
Specifically, in 2020, the apparent consumption of domestic crude oil was 736 million tonnes, a year-on-year increase of 5.6 percent, and that of the natural gas amounted to 325.36 billion cubic meters, a year-on-year increase of 7.3 percent. The apparent consumption of major chemical products increased about 4.6 percent year-on-year.
During the 14th Five-Year Plan period from 2021 to 2025, the country's petrochemical industry will focus on green, low-carbon, and digital transformation, according to a development guide for the industry during the 2021-2025 period.
According to the CPCIF, China will accelerate the construction of a modern petroleum and chemical industry system, and build a batch of internationally competitive enterprise groups and industrial clusters during the period from 2021 to 2025. (Edited by Hu Pingchao with Xinhua Silk Road, hupingchao@xinhua.org)