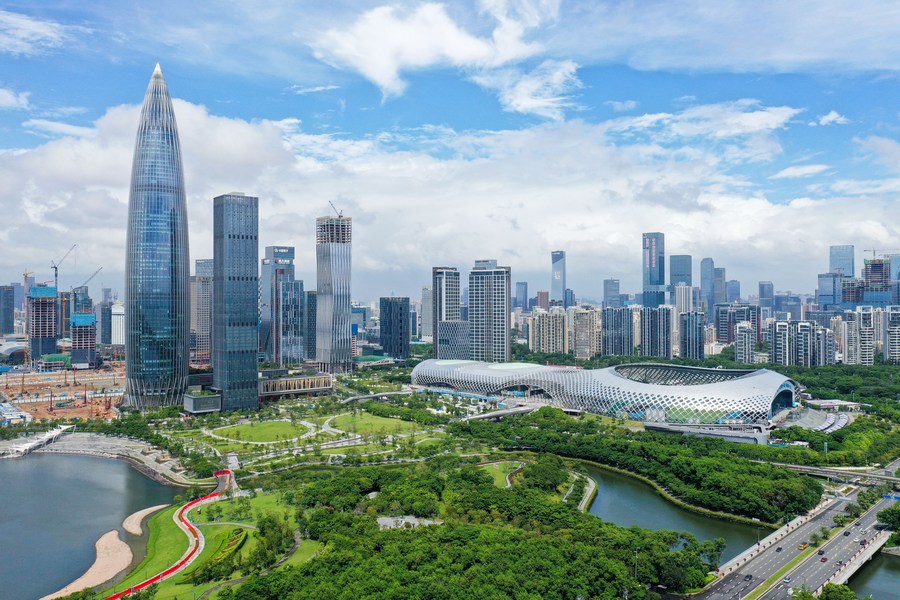 Aerial photo taken on Sept. 17, 2020 shows the Houhai area in Nanshan District of Shenzhen, south China's Guangdong Province. (Xinhua/Chen Yehua)
BEIJING, Feb. 3 (Xinhua) -- South China's city of Shenzhen in Guangdong Province saw its gross domestic production (GDP) increase by 3.1 percent year on year in 2020 to 2.77 trillion yuan (about 430 billion U.S. dollars), official data showed.
At a news release on Tuesday, Guo Chi, head of Shenzhen Statistics Bureau, said that the city showed strong economic resilience as it bucked the declining trend of the economy in the first quarter of 2020, when it registered a 6.6 percent decrease.
Guo also highlighted the city's market vitality amid the COVID-19 epidemic.
The number of registered enterprises in Shenzhen grew by 9.3 percent last year, with 328,700 newly-registered enterprises.
The city also saw foreign direct investment (FDI) in actual use, stand at 8.68 billion U.S. dollars in 2020, up 11.8 percent on a yearly basis.
In 2020, the profits of major industrial firms with an annual business turnover of at least 20 million yuan (about 3.09 million U.S. dollars) rose 10.6 percent, 6.5 percentage points and 7.4 percentage points higher than the national and provincial level, respectively.
As a southern tech hub, Shenzhen's added value of strategic emerging industry, such as the new-generation information technology industry, digital economy, high-end manufacturing, and green, low-carbon industries, climbed to 1.03 trillion yuan, accounting for 37.1 percent of the city's total GDP.
During the 14th Five-Year Plan period (2021-2025), the city aims to build itself into a global leader in technological and industrial innovation, with investment in research and development (R&D) accounting for more than 5 percent of its GDP.
(Edited by Li Shimeng with Xinhua Silk Road, lishimeng@xinhua.org)