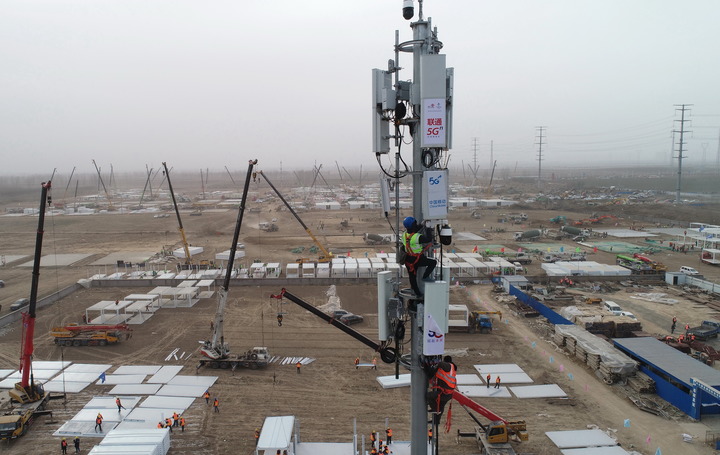 Aerial photo taken on Jan. 15, 2021 shows people installing 5G telecom facilities at the construction site of a centralized medical observation center in Shijiazhuang, capital of north China's Hebei Province. (Xinhua/Yang Shiyao)
BEIJING, Jan. 28 (Xinhua) -- Many regions in China have started construction on new infrastructure projects mainly covering the fields of 5G, big data and industrial internet in the beginning of 2021, reported Economic Information Daily Thursday.
The Shanghai Hongqiao Central Business District started construction on some new infrastructure projects on January 5, including the projects on adaptive transformation of the computer room of the Internet special channel, and the enhancement of the intelligent platform.
On January 27, Luoyang, a city in central China's Henan Province, held the launch ceremony of construction on 18 new infrastructure projects, mainly covering the internet platform for silicon-based semiconductor industry, as well as 5G base stations.
Meanwhile, Hubei Province in central China sets to implement 40 new infrastructure projects involving a total investment of 130 billion yuan in 2021, while south China's Guangdong Province plans to invest 800 billion yuan in key projects, such as 5G networks and industrial internet platforms.
As an important part of the new infrastructure, the construction of 5G base station is expected to reach 600,000 units in 2021, covering cities above the prefecture level in China and further extending to Chinese counties, according to the Ministry of Industry and Information Technology (MIIT).
North China's Shanxi Province proposes to build another 15,000 5G base stations in 2021, while Henan Province pledges to construct 50,000 base stations in the same year.
Investment in new infrastructure across China remains strong, despite the impact of the COVID-19 epidemic.
It is noted that while China's overall manufacturing investment declined in 2020, the growth rate of high-tech manufacturing investment reached 11.5 percent, with accelerated construction of new infrastructure such as 5G and industrial Internet.
(Edited by Jiang Feifan with Xinhua Silk Road, 346129473@qq.com)