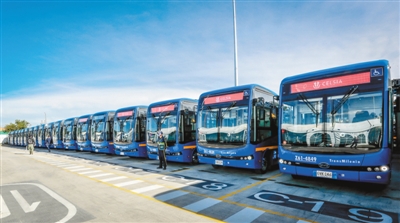 BEIJING, Jan. 26 (Xinhua) -- China's leading new energy vehicle (NEV) manufacturer BYD has recently received two new orders from Bogota, the capital of Colombia, for a total of 1,002 electric buses, showing the popularity of Chinese electric buses in Latin America, People's Daily reported on Monday.
The 1,002 electric buses will be successively put into operation on 34 bus routes in 5 areas of Bogotá, providing green travel services for people along the route, which can effectively improve local air quality.
Before this, 120 electric buses manufactured by BYD have been put into use in Bogotá, and another 350 are planned to be put into operation in the first quarter of this year. So far, BYD has received nearly 1,500 orders from Bogotá.
In addition, BYD will cooperate with Colombian bus manufacturers to assemble the body parts of these electric buses in Colombia, which will help promote the development of local industry and create job opportunities for the community, said Maria Ortiz, head of the Public Transport Administration of Bogotá.
So far, BYD's new energy vehicles have entered many Latin American countries including Chile, Ecuador, Brazil, Costa Rica, Colombia, Uruguay and Argentina.
(Edited by Gao Jingyan with Xinhua Silk Road, gaojingyan@xinhua.org)