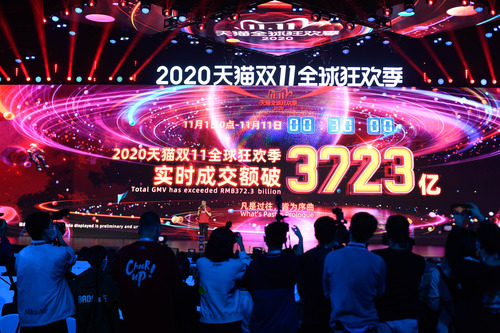 The giant screen shows sales on Alibaba's e-commerce platform Tmall between Nov. 1 and 12:30 a.m. on Nov. 11, in Hangzhou, east China's Zhejiang Province, Nov. 11, 2020.
BEIJING, Jan. 25 (Xinhua) -- China's online retail saw record-high market size in 2020, contributing to the new development pattern of "dual circulation", in which domestic and overseas markets reinforce each other with the domestic market being the mainstay, said a spokesman with Ministry of Commerce (MOC) on last Friday.
China's online shopping has been on a tear, and this boom prevailed even amid the COVID-19 epidemic. The country's online sales of goods surged by 14.8 percent year on year to 9.76 trillion yuan (about 1.52 trillion U.S. dollars), according to the official data.
China has ranked the largest online retail market in the world for eight straight years, the MOC said, noting that online retail sales accounted for nearly a quarter of the country's total retail sales volume last year.
The following break-down of official data sheds light on three traits showed in China's online retail sector in last year.
-- Innovation-driven development
Faced with the challengeable COVID-19 crisis, China's online retail sector sought innovation-driven development, with new business models gaining popularity.
For example, official data showed more than 20 million livestreaming marketing activities took place in 2020. The online education sales volume grew by over 140 percent year on year as schools shut down during the epidemic. Patients who turned to online medical services increased by 73.4 percent compared to the previous year.
Domestic demand has been boosted by various online promotion campaigns such as the "Double 11" shopping spree, and thus many brick-and-mortar stores went online for better sales.
Driven by the consumption upgrading trend, many categories of products, which meet with consumers' demand for a greener and healthier life, witnessed over 30 percent growth in sales in last year, such as fitness equipment, healthy food, kitchen appliances and pet products.
-- Thriving cross-border e-commerce
Customs statistics showed that the value of cross-border e-commerce trade in China reached 1.69 trillion yuan in 2020, a year-on-year increase of 31.1 percent.
The rapid growth last year resulted from the country's policy stimuli at all levels. From a global perspective, the country has continued to deepen cooperation with 22 countries to develop Silk Road e-commerce, with fruitful results seen in bilateral trade. At national level, China has launched pilot program of cross-border e-commerce in 46 regions, with new custom practice introduced to boost B2B e-commerce export.
The country also staged online trade fairs, such as the China Import and Export Fair (CIEF), offering great business opportunities for foreign trade amid the pandemic.
-- New vista in rural areas
China's rural areas have emerged as a new growth point of online retail, with total volume of online retail in these areas amounting to 1.79 trillion yuan in 2020, up 8.9 percent year on year.
In line with the country's rural vitalization strategy, the MOC has pushed forward the certification of high-quality agricultural products and the promotion of domestic agricultural brands.
Rural residents will be more engaged in e-commerce activities in the future, as efforts are stepped up to improve e-commerce infrastructure in rural areas and deliver professional training for them to enhance skills of e-commerce.
(Edited by Li Shimeng with Xinhua Silk Road, lishimeng@xinhua.org)