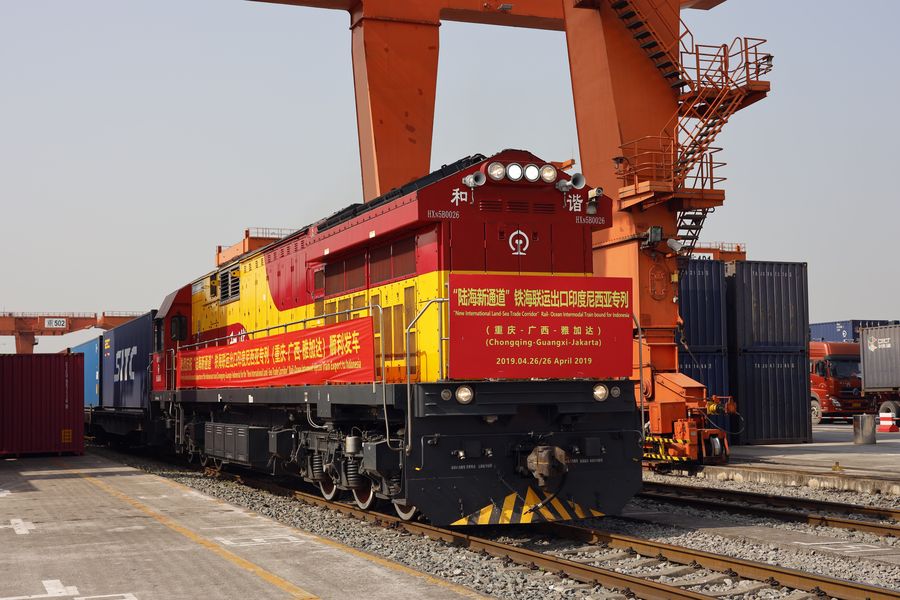 The first "new international land-sea trade corridor" rail-ocean intermodal train bound for Indonesia in southwest China's Chongqing, April 26, 2019. (Xinhua/Liu Chan)
BEIJING, Jan. 19 (Xinhua) -- The New International Land-Sea Trade Corridor, which is a trade and logistics passage jointly built by Singapore and provincial-level regions in western China under the framework of the China-Singapore (Chongqing) Demonstration Initiative on Strategic Connectivity, has linked 250 ports in 96 countries and regions as of the end of 2020, according to data recently released by the logistics and operating center for the corridor.
Integrating rail, sea, and road transport, the New International Land-Sea Trade Corridor connects southwest China's Chongqing, the operation center of the corridor, to the Beibu Gulf in south China's Guangxi Zhuang Autonomous Region by rail, then to Singapore and beyond by sea, thereby enhancing connectivity between western China, Southeast Asia and the rest of the world.
In 2020, the rail-ocean intermodal trains of the New International Land-Sea Trade Corridor made 1,297 trips, up 40.5 percent year on year. So far, the rail-ocean trains have reached 20 ports in eight member states of the Association of Southeast Asian Nations (ASEAN), including Singapore, Thailand and Vietnam, with international distribution centers having been built in Singapore, Vietnam and China's Hong Kong Special Administration Region.
Thanks to the multi-modal passage, 2,821 trips via cross-border highway services were made last year, surging 126 percent year on year. Two new highway routes have been added, connecting China with Uzbekistan and Kazakhstan, with eight highway routes seeing regular operation. Backed by the highway routes, Chinese enterprises, joining hands with their foreign partners, have built 30 overseas warehouses across the Indo-China Peninsula.
In addition, the international freight trains linking Chongqing and Hanoi, Vietnam ran 177 trips in 2020, soaring 149 percent year on year.
Last year, commodities imported and exported via the New International Land-Sea Trade Corridor covered 350 plus categories, such as automobile and spare parts, chemical raw materials, pharmaceutical products, beverages, fresh and frozen food. (Edited by Su Dan with Xinhua Silk Road, silviasu07@163.com)