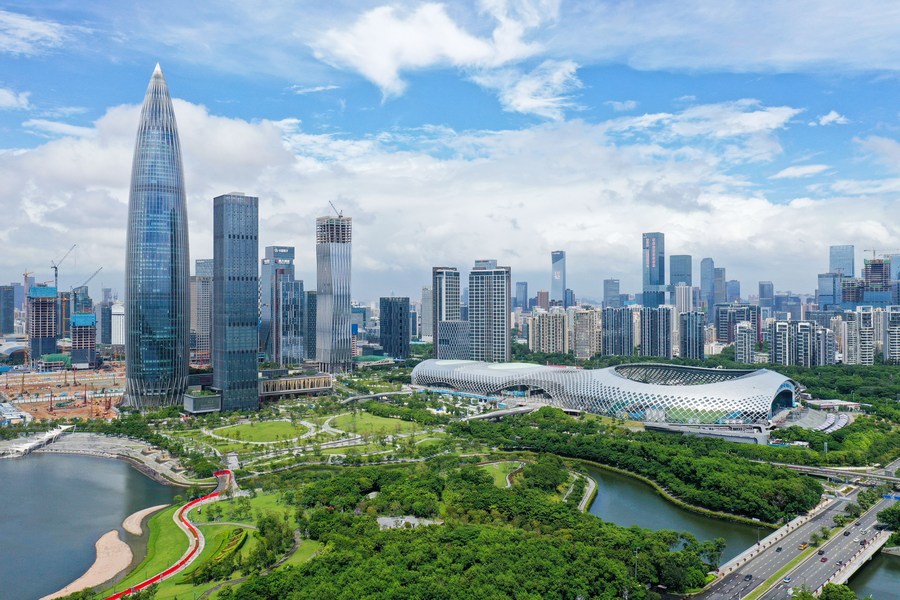 Aerial photo taken on Sept. 17, 2020 shows the Houhai area in Nanshan District of Shenzhen, south China's Guangdong Province. (Xinhua/Chen Yehua)
BEIJING, Jan. 19 (Xinhua) -- China will focus on building an open national market with orderly competition through a uniform manner in 2021, the first year of the 14th Five-Year Plan period, reported People's Daily Overseas Edition Monday quoting the head of China's market regulator.
Market regulators will take the continuous optimization of the market-oriented, law-based and internationalized business environment as a focal point to serve the building of the new development pattern, so as to constantly enhance the attractiveness of the Chinese market, said Zhang Gong, director of the State Administration for Market Regulation (SAMR).
Specifically, he noted, efforts will be made to form a national version of the list of enterprise-related business license items that has been successfully piloted in 18 pilot free trade zones, and replicate and promote it nationwide, and make new pilot free trade zone-version list based on deeper reform exploration.
For business license items included in the list, reform will be carried out in four different ways, namely directly canceling approval, changing approval to record filing, implementing notification commitment, and improving approval services.
Efforts will also be made to propel cross-province handling of business registration based on realizing one-network handling of such matter nationwide, improve the standardization of starting a business, and vigorously extend the cross-level, cross-field and muti-scenario application of electronic certificates.
In order to promote the healthy development of the Chinese market, SAMR will take maintaining and fostering fair competition as a key task in market regulation, and continue to strengthen law enforcement against monopoly and unfair competition, Zhang stated.
(Edited by Gu Shanshan with Xinhua Silk Road, gushanshan.1987@163.com)