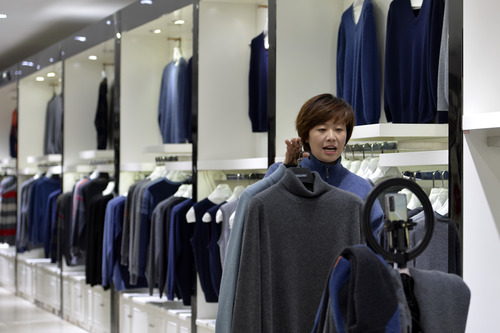 A staff member of a cashmere company sells cashmere clothes via a live-streaming platform in Qinghe County, north China's Hebei Province, Nov. 11, 2020. (Xinhua/Mu Yu)
BEIJING, Jan. 14 (Xinhua) -- China's booming live-streaming business, represented by Chinese short video sharing platform Douyin, promoted commodities through short videos and live-streaming amid the COVID-19 pandemic, injecting new momentum to economic recovery and development, industry experts said recently.
At present, major domestic platforms are engaging with the live-streaming sector. According to the 2020 report released by relevant consultancy, China's live-streaming e-commerce industry registered a total of 422.8 billion yuan of trade volume in 2019.
According to a recently released research report, platforms such as Douyin have promoted the development of new business models and consumption habits through short videos and live e-commerce, giving rise to a new economic model called "V economy", namely, a new economic model that integrates visualization, volume and vitalization. Industry experts said that, while digital technology promotes the development of new consumer formats, it also shows a great potential for the visual economy and the live-streaming economy in meeting expanding demands.
Lv Peng, a researcher with the Chinese Academy of Social Sciences (CASS), said that live-steaming is an effective means of activating the demand side with real experience, promoting the development of dual circulation and accelerating the integration of the virtual economy and the real economy.
For example, during the COVID-19 epidemic, major automobile companies have engaged with the live-streaming sector, among which China's leading heavy equipment manufacturer Sany Heavy Industry Co., Ltd. planned a number of events on Douyin, reaching 50 million yuan in sales within two hours during the shopping festival on March 20, breaking the sales dilemma amid the epidemic.
Nie Huihua, a professor with the School of Economics, Renmin University of China (RUC), said that the live-streaming economy broke the information asymmetry, broke through the limitations of time and space, and brought huge opportunities in helping destock agricultural products in rural areas and bridging the regional development gap.
Taking Douyin as an example, in February 2020, Douyin has invited mayors and county heads to help localities find markets through live-streaming sales for agricultural products that have been blocked.
Statistics showed that, by far, a total of 110 Chinese mayors and county heads have helped sell 123 million yuan of agricultural products by participating in live-streaming promotion activities.
Meanwhile, the booming 5G technology has upgraded the supply and demand structure of live-streaming economy, accelerating the upgrading of China's industrial intelligence, according to Chen Guangjin, a researcher fellow and director of the Institute of Sociology, CASS.
However, experts also pointed out that with the enhancement of industry competitiveness in the live-streaming sector, problems such as untimely supply feedback have become increasingly prominent, and it is necessary to establish a reasonable policy guidance framework and build a benign industrial development pattern in the future.
(Edited by Jiang Feifan with Xinhua Silk Road, 346129473@qq.com)