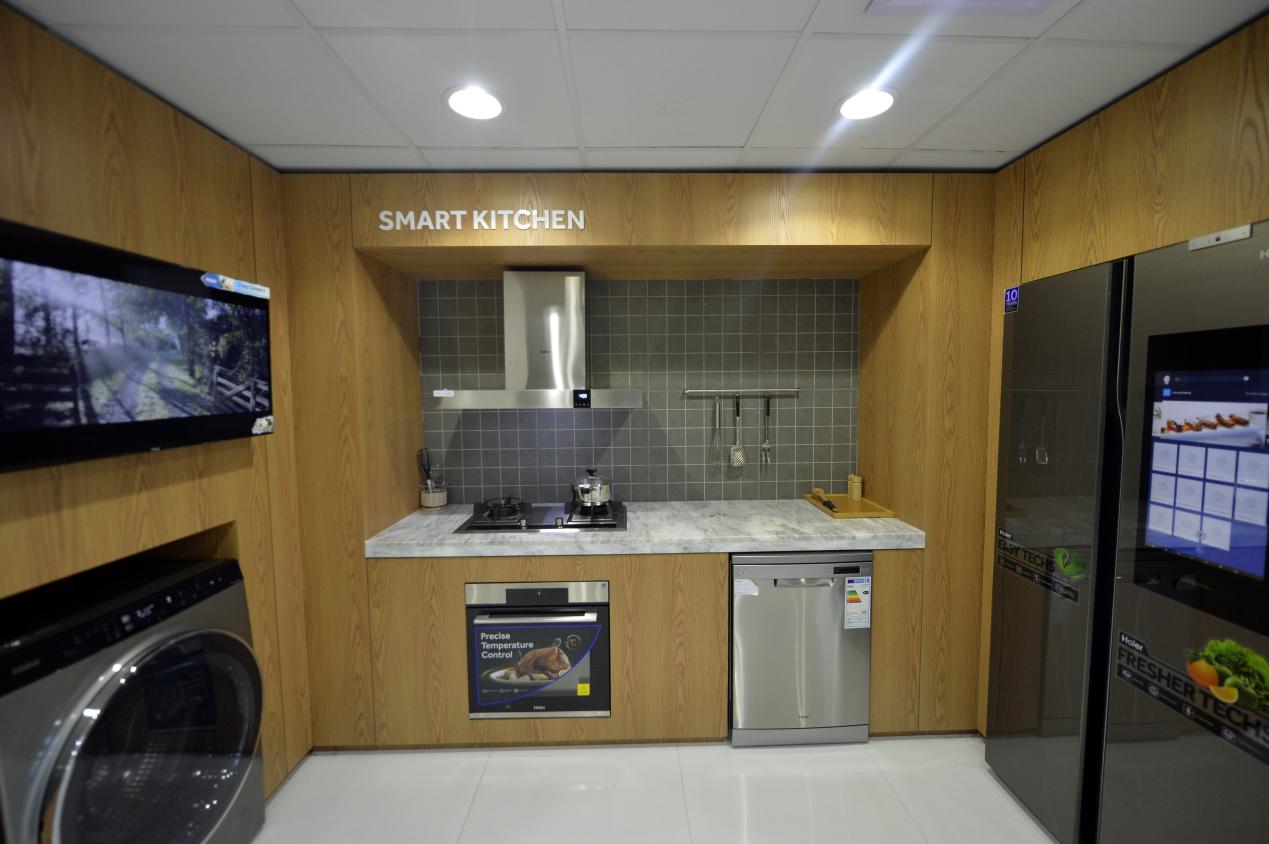 Photo shows the smart kitchen of Haier Smart Home in Lahore, Pakistan.
BEIJING, Jan. 14 (Xinhua) -- Chinese home appliance manufacturers witnessed an overall surge of their revenues in overseas markets in 2020, with various products becoming best sellers.
Boosted by the Belt and Road Initiative (BRI), home appliance makers such as Changhong, Midea, Haier, Hisense, Skyworth and Konka accelerated their paces of going global and continued their outbound investment.
With implementation of the Regional Comprehensive Economic Partnership (RCEP) agreement, further trade facilitation and preferential tariffs in the field of goods trade will be conducive to the exports of Chinese-made home appliances to relevant countries and regions in 2021.
-- Increasing exports
The export value of China's home appliance sector reached 59.07 billion U.S. dollars in the first three quarters of 2020, up 9.1 percent year on year, showed data from China's General Administration of Customs.
The increasing exports could be attributed to solid overseas demands catalyzed by "stay-at-home" economy at a time when production of overseas manufacturers was affected by the ravaging COVID-19 pandemic, according to analysis by the department of information consultancy of China Household Electrical Appliances Association (CHEAA).
Statistics from the CHEAA showed that refrigerators and freezers were the main drivers of China's home appliance exports last year. In the first three quarters of 2020, the export volume and value of refrigerators made by China both increased by 15 percent. Noticeably, refrigerators with a capacity of over 500 liters registered nearly 30 percent growth in export volume and value for the whole year. In the first nine months of last year, the exports of freezers surged at the rate of 40 percent.
Exports of many small household appliances turned positive in last July and kept growing in August and September. In the first three quarters of 2020, food processors, vacuums, electric fans and electric ovens saw double digit sales growth.
In terms of enterprise performance, Chinese home appliance makers including Haier, Hisense, TCL, Midea, Galanz, Changhong and Konka saw the sales of their products in overseas markets better than expected.
For example, the exports of Haier Smart Home products picked up in the second half of 2020. In October, the exports of Haier refrigerators, washing machines and air conditioners grew 97.9 percent, 52.4 percent and 7.7 percent year on year, respectively.
Other factors that have bolstered the exports of Chinese-made home appliances included government's policies to stabilize foreign trade as well as the rapid development of cross-border e-commerce and overseas e-commerce channels, according to analysis by the department of information consultancy of CHEAA.
-- Accelerating going global with self-developed brand products
On January 1, a China-Europe freight train loaded with smart home appliances developed by Chinese home appliance maker Changhong headed towards Lodz, Poland. On January 6, another China-Europe freight train with 41 carriages carrying Changhong refrigerators departed from Chengdu, southwest China's Sichuan Province and is scheduled to arrive at Duisburg, Germany on January 24.
With the China-Europe freight train services, the time needed for shipping Changong's home appliances to Prague is shortened from over 45 days in the past to 13 days. This is an example of how made-in-Sichuan products can be transported to European countries in just 10-odd days. A reduced shipping time will further facilitate Changong's business expansion in the European markets, said an executive with Changhong.
The executive stated that Changhong would make use of the supply chains in Chengdu and its neighboring municipality of Chongqing to enter the European markets, like transporting TV screens, circuit boards, IOT modules and connectors to Prague and taking back automobile parts produced in Europe to Chengdu by China-Europe freight trains so as to serve Volvo and other companies for complete vehicle manufacturing.
Other home appliance manufacturers such as Midea, Haier, Hisense, Skyworth and Konka also took their self-developed brand products abroad and saw sales growth last year.
For instance, Midea Group, one of the leading home appliance giants in China, increased its overseas investment even when its business was hit by the pandemic in 2020. It improved production capacities and diversified product line-ups at existing production bases, and eyed constructing new production bases overseas. The group has rolled out a plan to build its 18th overseas production base in Africa, according to Zhao Wenxin, vice president of the international business of Midea Group.
Zhao added that in 2020, the proportion of Midea Group's self-developed products in its overall business was increased to 40 percent. In the next few years, the Group will continue its investment in overseas markets at a faster pace.
Likewise, Skyworth, TCL and Konka have set foot in Africa and Germany, and reinforced their business layout for Southeast Asian markets. They have also made plans to expand their business around the world in the next two years.
Embracing opportunities brought by the BRI, Chinese home appliance manufacturers are taking the initiative to explore overseas markets and enhance influence of their brands. They are also actively participating in local infrastructure construction and stabilizing logistics supply chains, which in turn contribute to the development of BRI, Hong Shibin, founder of Yuecheng Stocks, said in an interview with Securities Daily.
-- Promising prospect
On November 15, 2020, the Regional Comprehensive Economic Partnership (RCEP) agreement was signed among its 15 participating countries including the ten member countries of the Association of Southeast Asian Nations (ASEAN) and China, Japan, the Republic of Korea, Australia and New Zealand, which represents the world's biggest free trade bloc with around 30 percent of the global population, world's gross domestic product (GDP) and global trade.
The RCEP agreement requires the 15 participating countries to reduce tariffs and open their markets with reduced barriers. This indicates that the circulation and operation costs among the participating countries will be greatly reduced, which is expected to propel regional consumption.
Under the RCEP agreement, trade liberalization and facilitation as well as preferential tariffs in the field of trade in goods will be advanced. Against this backdrop, Chinese home appliances, which already have strong competitive edge in overseas markets, will boast more salient advantages in Southeast Asia and even in all the regional markets of RCEP participants, according to Northeast Securities.
Looking from the product end, opportunities can be found in high-end home appliance market. As the pandemic has increased overseas consumers' demands for intelligent home appliances that are good for health, the market share of such high-end products is expected to gradually increase in the future, said Zhang Qingfu, vice president of Haier Overseas Electric Appliance Co., Ltd.
Zhang also mentoned that Haier has launched a series of "good-for-health" products and solutions to meet the changing needs of local consumers. For example, the company unveiled its refrigerators highlighting "sterilization and preservation" functions and won a lion's market share in Germany, France, the United Kingdom and Russia. (Edited by Su Dan with Xinhua Silk Road, sudan@xinhua.org)