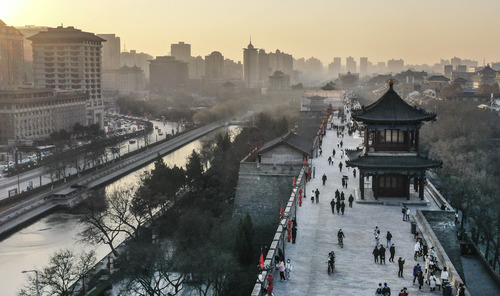 Aerial photo taken on Jan. 1, 2021 shows people visiting the ancient city wall at sunset in Xi'an, northwest China's Shaanxi Province. (Xinhua/Tao Ming)
BEIJING, Jan. 11 (Xinhua) -- Local authorities in northwest China's Shaanxi Province recently rolled out four detailed measures to promote the high-quality development of the comprehensive bonded zones in the province, reported Shaanxi Daily last Friday.
According to the measures, Shaanxi will take efforts in the fields of overall planning, the development of leading industries, investment attraction, and supervision facilitation.
Specifically, the province will rely on local resource endowments and industrial characteristics, encourage cities and regions with demand and conditions to declare the establishment of comprehensive bonded zones, and strengthen the layout system of the province's comprehensive bonded zones.
While encouraging all regions to develop the comprehensive bonded zones, Shaanxi Province will focus on cultivating dominant industries in the comprehensive bonded zones and support enterprises to develop to the high-end of the industrial chains, such as research and development, remanufacturing and cross-border e-commerce ones.
Meanwhile, Shaanxi will build an industrial transfer demonstration zone with the provincial capital of Xi'an city as the core, division of labor and cooperation in other cities.
Priorities will be given to innovative investment, and the provincial park management committee, industry authorities, as well as fund and platform companies will jointly invite investment to solve the project landing and funding problems.
Shaanxi Province vows to promote the development of import business, global maintenance and remanufacturing, and financial leasing in the comprehensive bonded zones.
(Edited by Jiang Feifan with Xinhua Silk Road, 346129473@qq.com)