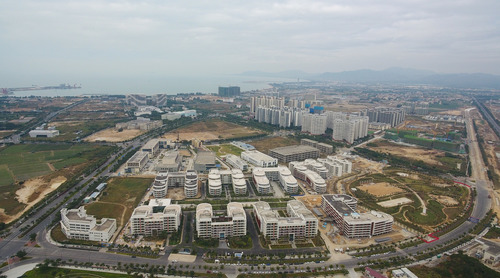 Aerial photo taken on Jan. 6, 2021 shows the Yazhou Bay Science and Technology City under construction in Sanya, south China's Hainan Province. (Xinhua/Yang Guanyu)
BEIJING, Jan. 8 (Xinhua) – Sanya, a resort city in south China's Hainan Province witnessed setup of 158 new foreign-funded enterprises in 2020, a year on year increase of 163 percent, reported Hainan Daily Friday.
Among them, there are 13 foreign-funded firms with a total registered investment of more than 20 million U.S. dollars, including top 500 enterprises such as Yum China Holdings, Inc., and Rio Tinto Plc.
Relying on Sanya's favorable policies and resources, the city has been attracting world's high-end resources by conducting accurate investment guide, said Wu Haifeng, vice mayor of Sanya.
In 2020, Sanya attracted investment from 29 countries and regions including Singapore, the United States, the United Kingdom and Japan, witnessing the actual use of foreign capital hike 18 percent year on year.
The field of foreign investment has extended to from real estate to key sectors of free trade port construction, such as headquarters, business services, information technology services, and scientific research.
Taking Hengli Group, one of the World Top 500, as an example, the company has set up a headquarter base including purchasing center, sales center and scientific center in Sanya, according to Hengli Group, adding that it expected to build a super five-star hotel and a high-tech industrial base there in the future.
At present, more than 20 foreign-funded enterprises and institutions are negotiating investment with Sanya, covering a wide range of areas such as duty-free shopping center, tourism, and intermediary services.
Gu Xiyin, deputy director of the Sanya Investment Promotion Bureau reveals that Sanya will continue to make efforts in implementing systematic management of investment information to attract foreign funds globally.
(Edited by Jiang Feifan with Xinhua Silk Road, 346129473@qq.com)