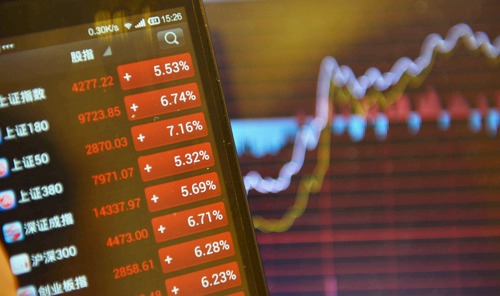 BEIJING, Jan. 8 (Xinhua) -- Big caps in China's A-share market turned out a favored area that drew vast in-pouring of new capital in the first three trading days of this week, reported Xinhua Finance, a Xinhua-run financial information platform Thursday.
From Monday to Wednesday, China's A-share market recorded three days with daily turnover exceeding one trillion yuan consecutively, which, as institutions held, hinted the ample market liquidity conditions and improved risk appetite.
Since start of the 2021, big cap stocks proved the most eye-catching sector on China's A-share market. By Wednesday, there were an all-time-high 51 large cap stocks in total, with their respective market capitalization at over 100 billion yuan and Chinese alcoholic maker Kweichow Moutai Co., Ltd. (600519.SH) and lithium-ion batteries producer Contemporary Amperex Technology Co., Ltd. (300750.SZ) as typical examples.
By January 6, Kweichow Moutai Co., Ltd. hailed a total market capitalization of 2.64 trillion yuan and Contemporary Amperex Technology Co., Ltd. saw its aggregate market capitalization reaching 947.6 billion yuan.
Analysts attributed the investors' favor towards large caps to increasing attractiveness of market leading stocks alongside the improving industry concentration and growing proportion of institutional investors, in particular large institutional investors, among the entire investor team. Continuous influx of new capital also added to the price rise of leading stocks on A-share market, noted analysts.
Since mid July 2020, China's A-share market benchmark indexes remained in fluctuation primarily due to the insufficiency in new capital inflows, said Fan Jituo, strategist with New Times Securities, noting that capital influx-driven rallies are likely to appear again on the A-share market in the first quarter of 2021.
However, some analysts believed China's A-share market still stays in a course of habitual rally and despite the Monday-Wednesday rally, no higher openings than last-trading day close are formed, meaning that the market rally remains moderate.
Hu Guopeng, strategist with Founder Securities suggested investors pay attention to highly prosperous industries and industries with recovering prosperity amid such market sentiment.
For highly prosperous industries, new energy vehicle and PV sectors are worthy of further attention and for industries with recovering prosperity, aviation, catering, tourism, hotels, and movie sectors are suitable sectors to focus on. (Edited by Duan Jing with Xinhua Silk Road, duanjing@xinhua.org)