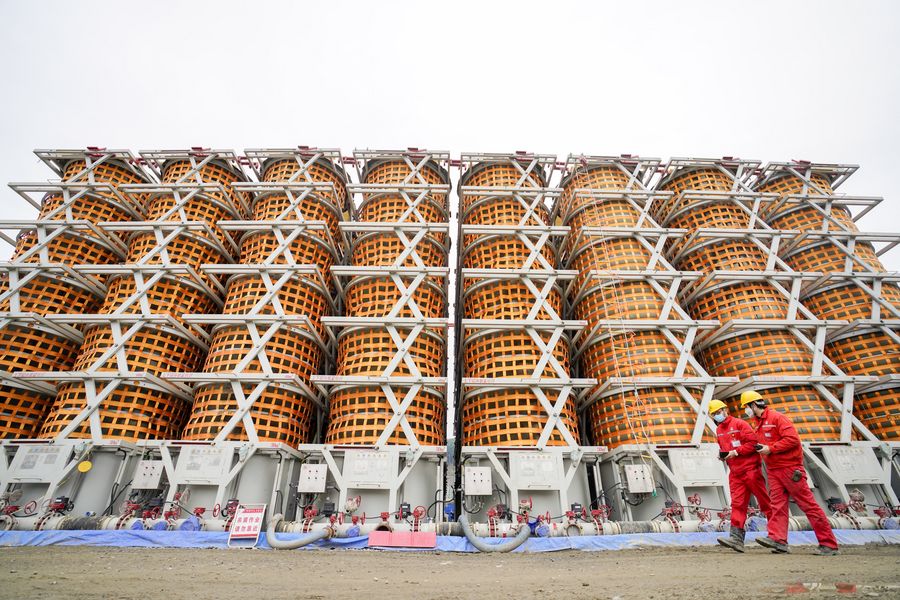 Technicians work at a shale gas platform of China Petrochemical Corporation in southwest China's Chongqing Municipality, Feb. 22, 2020. (Xinhua/Liu Chan)
BEIJING, Jan. 7 (Xinhua) -- Chinese oil and gas giant China Petroleum and Chemical Corp (Sinopec) announced on Wednesday that it has completed full construction of the Phase-I shale gas field project with an annual production capacity of more than 1 billion cubic meters of shale gas.
At present, the project can produce 3.5 million cubic meters of shale gas on a daily basis to meet the needs of about 7 million households.
The project, which will be built in two phases, is expected to have an annual production capacity up to 3 billion cubic meters of shale gas once fully completed.
The Weirong shale gas field, based in southwest China's Sichuan Province, is China's first deep-seated shale gas field with more than 100 billion cubic meters proven geological reserves. The main gas reservoirs are buried at a depth of about 3,750 meters.
Since October 2020, Sinopec's southwest branch has brought its natural gas supply to 1.7 billion cubic meters, a 15 percent year-on-year increase, to ensure the heating season supply.
(Edited by Li Shimeng with Xinhua Silk Road, lishimeng@xinhua.org)