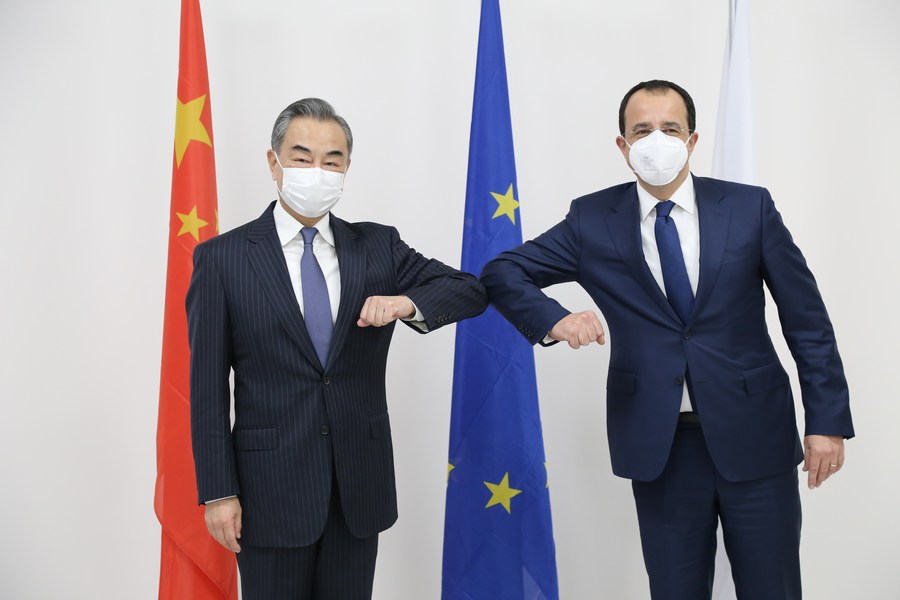 Chinese State Councilor and Foreign Minister Wang Yi (L) meets with Cypriot Foreign Minister Nicos Christodoulides in Larnaca, Cyprus, on Jan. 4, 2021, during a stopover in Cyprus on his official trip to Africa. (Xinhua/Zhang Baoping)
BEIJING, Jan. 6 (Xinhua) -- China and the European Union (EU) concluded as scheduled the negotiations for the China-EU investment agreement on December 30, 2020, which is believed to inject strong vitality into globalization, according to a report released by an investment bank China International Capital Corporation Ltd. (CICC) earlier this week.
-- China-EU investment agreement expected to be an upgrade of existing investment agreements between China and EU countries.
According to the CICC report, China has entered into investment agreements with all EU member states except for Ireland, but these agreements are characterized by much longer time spans, different contents and outdated provisions, and thus no longer meet today's development environment. In addition, these agreements basically involve no such contents as investment market access, investment liberalization and sustainable development.
According to the head of Ministry of Commerce's Department of Treaty and Law on conclusion of the negotiations, the China-EU investment agreement is a balanced, high-standard, mutually beneficial and win-win agreement that matches high-level international economic and trade rules and focuses on institutional opening-up. The agreement covers far more areas than traditional bilateral investment treaties, with the negotiation outcomes involving market access commitments, fair competition rules, sustainable development and dispute settlement.
In terms of market access, the agreement applies, as the CICC report says, the model of pre-establishment national treatment plus a negative list. For the first time, China has made its commitments in the form of negative list for all sectors including service and non-service industries to fully align with the negative list management system for foreign investment as established in the Foreign Investment Law.
Also, the EU has promised a greater market access to Chinese investment in the agreement. The two sides will also commit not to set restrictions in market entry on the number, output, turnover, directors and executives, local R&D, export performance and headquarters setup of foreign enterprises in most economic areas, and will allow investment-related foreign exchange transfer as well as personnel entry and stay.
When it comes to the rules for fair competition, the two sides have reached consensus on issues closely related to business operation, such as state-owned enterprises (SOEs), subsidy transparency, technology transfer, standard formulation, administrative law enforcement and financial regulation with the focus on building a law-based business environment.
For sustainable development, the CICC report tells that the agreement includes specific provisions for environmental and labor issues related to investment. The two sides will promote the investments that contribute to the achievement of sustainable development goals, strike a balance between attracting investment and protecting the environment and labor rights, and fulfill relevant international commitments.
For next step, China and the EU will start the agreement text review and translation and strive to facilitate the signing of the agreement at an early date. Then, the agreement will come into force upon completion of their respective internal approval procedures.
-- Conclusion of negotiations to further enhance bilateral economic and trade ties.
China and the EU are important economic and trade partners to each other.
Taking direct investment as an example, by the end of 2018, EU's outstanding direct investment into the Chinese mainland stood at 175.3 billion euros, accounting for two percent of the EU's total foreign direct investment (FDI).
By the end of 2019, EU's outstanding direct investment into the Chinese mainland took up 5.6 percent of all the FDI in the Chinese mainland by the same time. Outbound direct investment (ODI) from the Chinese mainland into the EU totaled 93.9 billion U.S. dollars by the end of 2019, representing 4.3 percent of China's aggregate outstanding ODI.
The above data, however, excludes the EU's transit investment into China via the Hong Kong Special Administrative Region, which may underestimate the scale of investment between the two markets.
Chart I: Proportion of Trade in Goods and Services and outstanding direct investment between the EU and China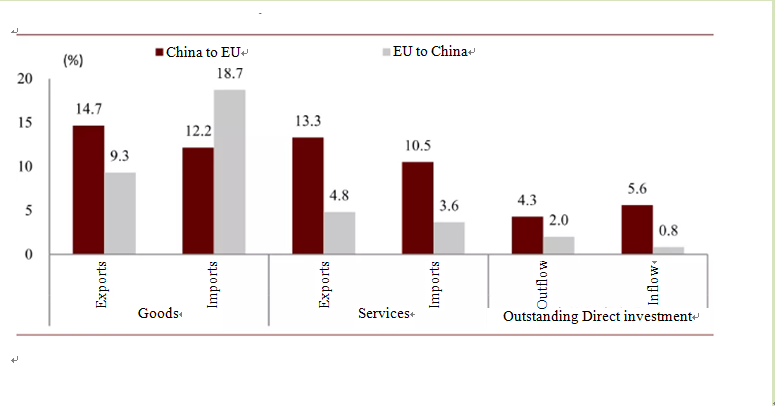 Notice: China to EU refers to the proportion of China's exports to, imports from and ODI in the EU in China's total exports, imports and ODI; EU to China means the proportion of EU's exports to, imports fromand ODI in China in EU's aggregate exports, imports and ODI.
Source: Wind, Eurostat, IMF & CICC Research Department. Data on trade in services and outstanding direct investment between the EU and China are data of 2018, and the rests are data of 2019.
In 2019, the EU's investment in the Chinese mainland was concentrated in manufacturing, leasing and business services, wholesale and retail trade while China's investment in the EU mainly went to manufacturing, leasing and business services, information transmission and software, and information technology services.
Chart II: Distribution of the EU's Investment in China in 2019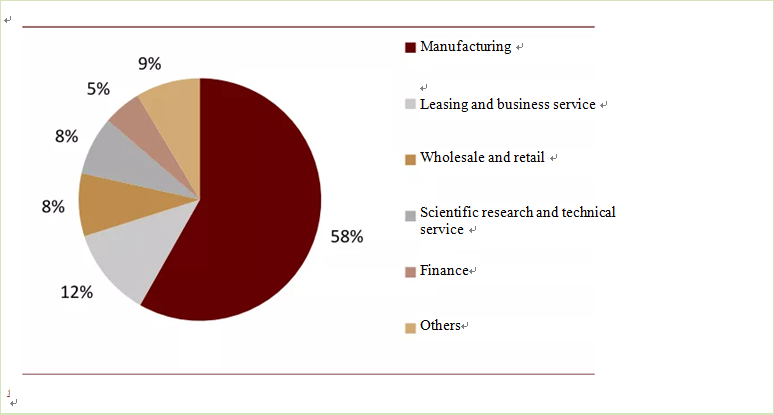 Source: Statistical Bulletin of FDI in China 2020 & CICC Research Department
Chart III: Distribution of China's investment in the EU in 2019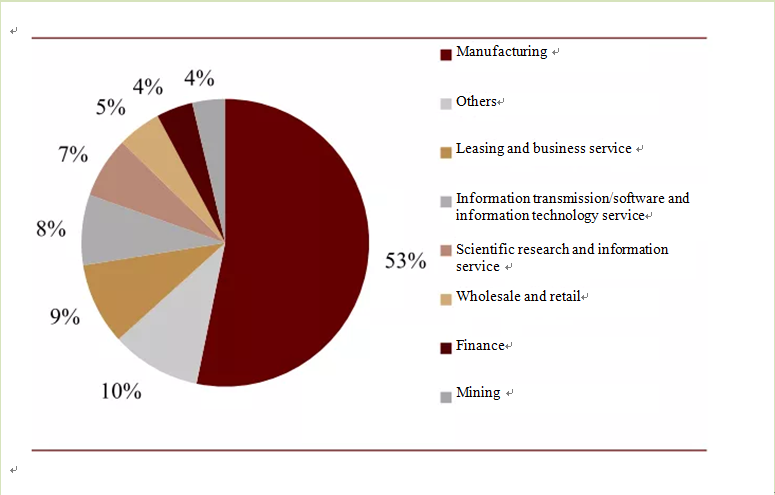 Source: 2019 statistical bulletin of China's ODI & CICC Research Department
-- Conclusion of China-EU investment treaty to give strong boost to globalization
In the short term, the possibility can not be ruled out that China's further opening of its market to the EU may exert shocks to related industries, held the CICC report.
However, opening wider to the outside world is expected to improve China's market economic system and the technology spillover effect of FDI can improve China's technology level.
At present, conclusion of negotiations on the China-EU investment agreement and the official signing of the previous regional comprehensive economic partnership (RCEP) have demonstrated China's active pursuit of multilateralism in global cooperation and will give a strong boost to the globalization process. (Edited by Duan Jing with Xinhua Silk Road, duanjing@xinhua.org)