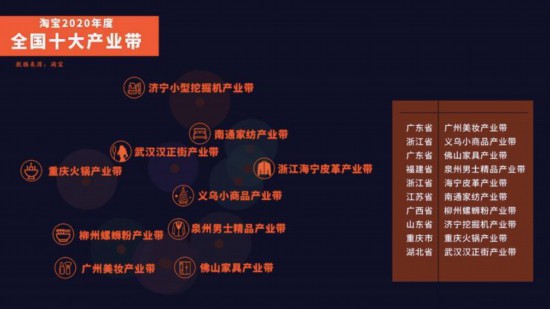 BEIJING, Jan. 7 (Xinhua) -- The digitalization of industrial belts may become a new momentum for China's high-quality economic development, said Chen Duan, director of the Digital Economy Integration Innovation Development Center of Central University of Finance and Economics, reported Chinanews.com Monday.
Taobao, a major online shopping website run by China's Alibaba, recently announced the top ten industrial belts in 2020, among which, Guangzhou Beauty, Yiwu Small Commodities and Liuzhou Luosifen, also known as River Snail Rice Noodles, were on the list.
Different from previous years, the top 10 industrial belts not only include the Pearl River Delta, the Yangtze River Delta and the coastal area of Fujian in east China, but three industrial belts in the western and central regions listed with their rapid development.
In the post-pandemic era, under the guidance of China's "dual circulation" development pattern, Alibaba restarted its "Spring Thunder Plan" which helped small and medium enterprises and achieved a digital breakthrough with 2,000 industrial belts across the country.
Foreign trade companies in the Yangtze River Delta and Pearl River Delta were most affected by the pandemic and foreign trade and local governments and businesses have reached a consensus on digital transformation.
Thousands of merchants from Guangdong Foshan furniture industrial belt, Zhejiang Haining Leather industrial belt, and Yiwu Small Commodity industrial belt joined Taobao in 2020. During 2020 Double 11 shopping festival, the trading volume of the three industrial belts all exceeded 1 billion yuan.
In the western region, Liuzhou Luosifen and Chongqing hot pot have entered the list, benefiting from the innovation of industrialized production and the acceleration of industrial digital transformation by China's "new infrastructure".
In addition, local governments have paid more and more attention to building regional brands in industrial belts. Since 2020, governments of Fujian, Chongqing, Shandong and other provinces have joined hands with Taobao to promote products with own characteristics and build regional brand influence.
(Edited by Gao Jingyan with Xinhua Silk Road, gaojingyan@xinhua.org)