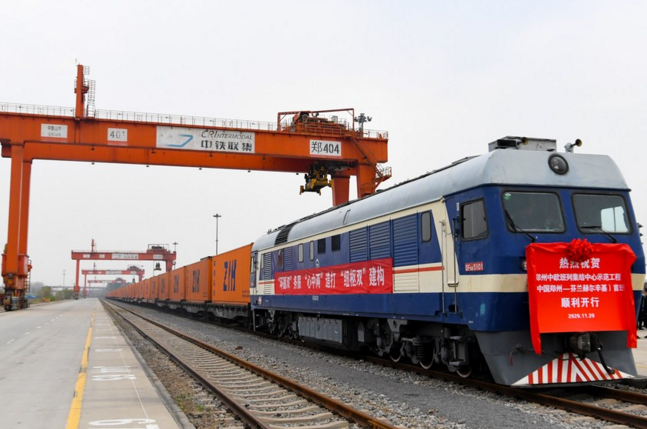 A China-Europe freight train bound for Helsinki, Finland waits for departure at Putian Station of Zhengzhou, central China's Henan Province, Nov. 20, 2020. (Xinhua/Hao Yuan)
BEIJING, Jan. 6 (Xinhua) -- The China-Europe freight trains plying between Zhengzhou and European cities made more trips in 2020, contributing to the stable international supply chain, the local newspaper reported on Wednesday.
Statistics showed that such freight trains made a total of 1,126 trips in 2020, with 714,900 tonnes of cargo transported, worth 4.277 billion U.S. dollars.
Zhengzhou, a transport hub in central China, launched the China-Europe freight train services on July 18, 2013. Since its launch, the freight trains have made a total of 3,886 trips, handling about 2,102,800 tonnes of cargo worth about 16.07 billion U.S. dollars, according to Zhengzhou International Hub Development and Construction Co., Ltd., an operator of the train service.
In 2020, in the face of the severe challenges brought by COVID-19, the China-Europe freight trains departing from or arriving in the city of Zhengzhou, capital of Henan Province, played an important role in boosting the province's trade with other countries and regions.
The China-Europe rail transport service was initiated in 2011 and is considered a significant component of the Belt and Road Initiative (BRI) to boost trade between China and countries participating in the initiative. Amid the coronavirus pandemic, the service remained a reliable transportation channel. (Edited by Hu Pingchao with Xinhua Silk Road, hupingchao@xinhua.org)