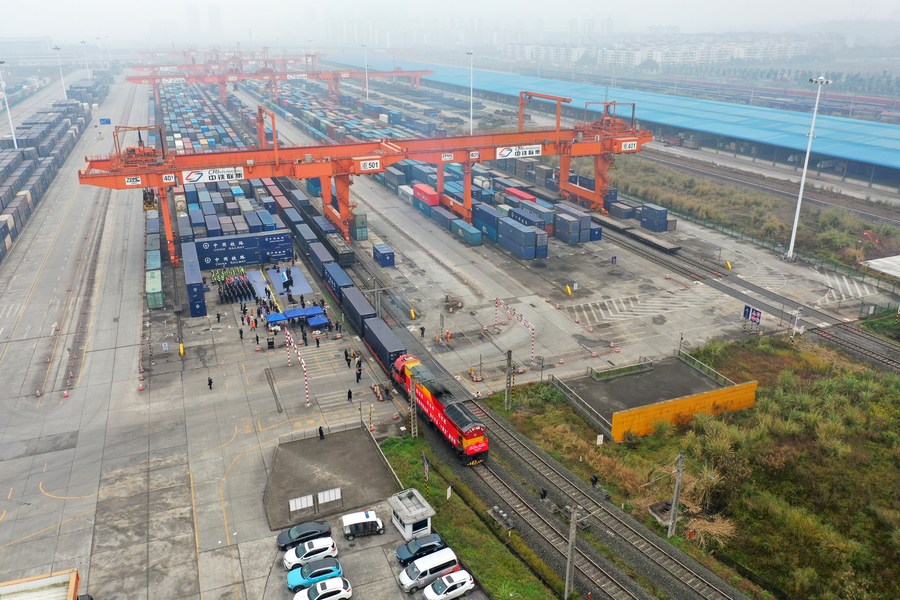 Aerial photo shows a China-Europe freight train bound for Duisburg of Germany departing from Tuanjiecun Railway Station in southwest China's Chongqing, Jan. 1, 2021. (Xinhua/Tang Yi)
BEIJING, Jan. 1 (Xinhua) -- Multiple bilateral investment and trade agreements between China and other countries and international organizations have been implemented recently, pushing forward China's opening-up at a faster speed, reported Economic Information Daily Monday.
On December 30, 2020, the leaders of China and the European Union (EU) jointly declared the completion of investment agreement negotiations as scheduled.
According to head of the Department of Treaty and Law of the Ministry of Commerce (MOC), the China-EU investment agreement involves far more fields than traditional bilateral investment agreements, and the outcomes of the negotiations cover market access commitments, fair competition rules, sustainable development and dispute settlement.
With the implementation of the agreement, the two-way investment between China and EU will be further broadened and deepened, stepping into a new stage, said MOC.
On January 1, 2021, the free trade agreement (FTA) between China and Mauritius came into effect. According to the agreement, the two sides will pursue high-level free arrangements in goods trade and carry out economic and technical cooperation in agriculture, finance, medical care, tourism and many others fields.
On the same day, China and Mongolia mutually implemented the tariff reduction arrangements under the First Agreement on Trade Negotiations among Developing Member Countries of the Economic and Social Commission for Asia and the Pacific.
According to the arrangements, Mongolia cut tariffs on 366 tax items, with average tax reduction registering 24.2 percent. Meanwhile, China's tariff reduction arrangements under the agreement apply to Mongolia.
In the future, China will further quicken the global layout of free trade zones and increase the depth and breadth of FTAs, so as to expand economic and trade cooperation, raise the liberalization and facilitation level of bilateral trade and promote the joint building of a high-quality Belt and Road, said Pang Chaoran, an associate research fellow with the Chinese Academy of International Trade and Economic Cooperation.
(Edited by Gu Shanshan with Xinhua Silk Road, gushanshan.1987@163.com)