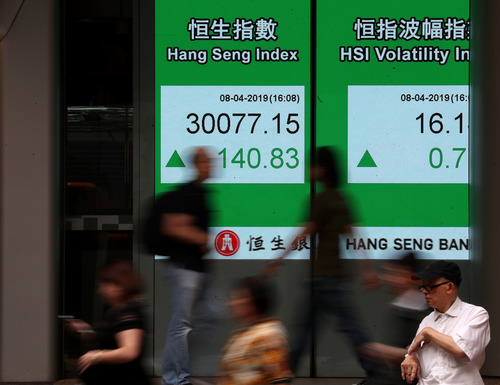 BEIJING, Dec. 30 (Xinhua) -- China's H-shares are forecasted to be more attractive in 2021, reported Xinhua Finance citing a research report of China Merchants Securities (CMS) Wednesday.
The CMS report said that H-shares may benefit more from the likely global capital inflow as an expected weak U.S. dollar cycle and the ongoing economic recovery in China will boost Renminbi (RMB)-denominated assets.
Meanwhile, the second listing of Chinese concept stocks in Hong Kong will further improve the value of Hong Kong-listed stocks and the value of H-shares is currently undervalued compared with global markets, with certain industries also structurally undervalued.

Under such circumstances, H-share market is likely to continue to attract more fund inflows in 2021.
By far, publicly-offered funds have kept adding their holdings of H-shares and more and more H-shares became stocks heavily invested by publicly-offered funds.
Currently, H-shares and target H-shares under the stock connect program between the Chinese mainland and Hong Kong remain relatively attractive towards insurance firms.
Pang Ming, chief economist with China Renaissance Securities (Hong Kong) Limited, said that the future of H-shares market lies in new economy.

As more and more leading internet, sci-tech-driven and medical firms that represent the new direction of economy going public on Hong Kong market, H-shares are deemed attractive with relatively high value in the mid- and long run, added Pang.
Pursuant to the company's calculation, the proportion of market capitalization of new economy-related companies in Hong Kong stock market has grown to 45 percent from 33 percent in the past three years and is likely to rise to 55 percent or beyond in the following three to five years.
As a result, investors are anticipated to continue to favor new economy related component stocks on the Hong Kong market, added Pang. (Edited by Duan Jing with Xinhua Silk Road, duanjing@xinhua.org)