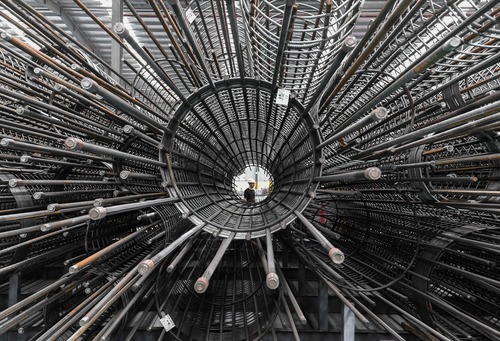 Photo: A worker walks past a warehouse of a steel processing center in Guangzhou, south China's Guangdong Province, Sept. 20, 2020. (Xinhua/Liu Dawei)
BEIJING, Dec. 18 (Xinhua) -- China's Ministry of Industry and Information Technology (MIIT) on Wednesday began soliciting public opinion on a draft revision concerning capacity replacement measures for steel, cement, and glass industries, in an effort to reduce air pollution.
The draft revision forbids expansion of steel capacity in environmentally sensitive areas, including the Beijing-Tianjin-Hebei region, the Yangtze River Delta, the Pearl River Delta, and the Fenwei Plain region, etc.
Regions that have not met the capacity control target are not allowed to accept new steel capacity from other areas. Neither establishment of new steel mills nor expansion of steel projects outside legal industrial parks is allowed in the Yangtze River Delta region.
It is also clarified seven situations where steel capacity is not allowed to be replaced, such as the capacity already listed in the de-capacity tasks, substandard steel capacity and steel capacity of "zombie enterprises".
According to the revision, steel plants in environmentally sensitive areas should remove at least 1.5 tonnes of outdated capacity for every 1 tonne of new capacity, while other regions, 1.25 tonnes for 1.
The measures also ban the expansion of cement clinker and plat glass.
(Edited by Li Shimeng with Xinhua Silk Road, lishimeng@xinhua.org)