BEIJING, Dec. 17 (Xinhua) -- China's Human Resource (HR) service industry is likely to see changes with both opportunities and challenges ahead brought by the epidemic, according to Cheng Jie, associate professor, Institute of Population and Labor Economics, Chinese Academy of Social Sciences.
The industry could seize the opportunities as the government prioritizing employment and supporting new business forms, accelerate its integration with information technology to "go smarter" while prepare for challenges such as intense competition, Cheng noted in a telephone interview.
THE ONLINE SCENARIO
Despite the toll on job market by COVID-19, China has managed to keep the unemployment rate low as stabilizing employment has been a macroeconomic policy priority throughout the year.
The freshly rolled out data on December 15 showed that China's surveyed urban unemployment rate stood at 5.2 percent in November, registering a four-month declining streak, with a total of 10.99 million new urban jobs created in the first 11 months, surpassing the target set for the whole year by 22.1 percent, said the National Bureau of Statistics (NBS).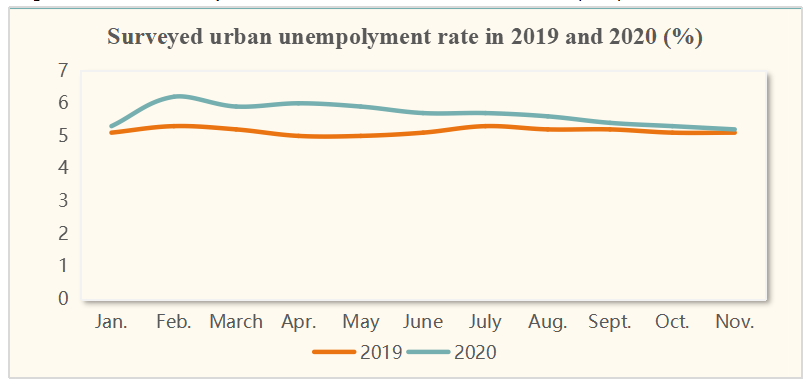 Source: The National Bureau of Statistics of China
On one hand, the relative steady figures reflect all-out efforts made by authorities for securing employment with change put in place of how single individual found their "spots" by more "non-contact" means.
In order to secure jobs for this year's 8.74 million registered college graduates, for example, more than 200,000 online job fairs were held during March-September, about 20 times the offline ones, according to Wang Hui, an official with the Ministry of Education.
The "24365" campus service, a flagship online recruitment platform, has provided 15.22 million pieces of job information and recorded 37.36 million resume uploads, with 6.69 million new graduates registering on the site since its launch in February, said Wang.
On the other hand, for market-oriented players, another major HR service supplier besides the public service system, such priority and digital changing scenario smell opportunities.
The epidemic has made Career International accelerate technological R&D and pay more attention to digital innovation and ecological innovation, said Li Yuezhang, CEO with the total talent solutions provider.
The company launched the "recruitment-examination integration system" which combines new technology with government and public institution HR scenarios, according to Li, noting that the system has so far conducted online examinations for more than 100,000 people and online interview for more than 50,000.
The company's revenue exceeded 2.73 billion yuan inthe first three quarters of 2020, in which flexible staffing revenue increased by 32 percent year-on-year, he said.
THE DIGITAL TOUCH
In fact, China's HR service industry is already undergoing changes after rapid development in recent years.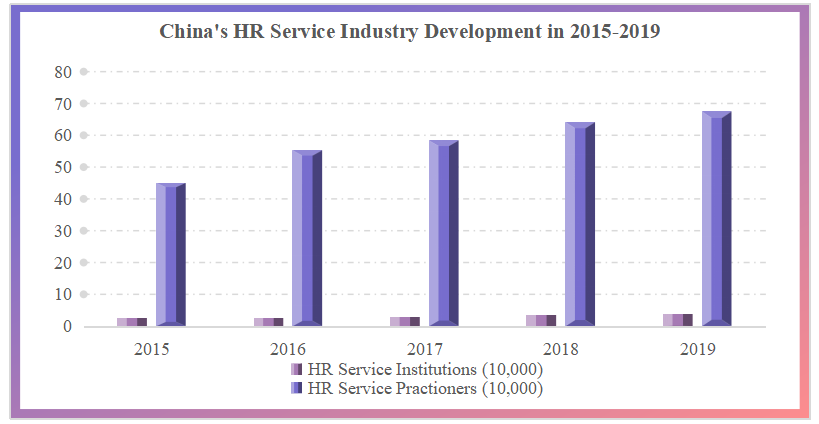 Source: China's Ministry of Human Resources and Social Security
Industry revenue totaled 1.96 trillion yuan by the end of 2019, up from only 694.5 billion yuan in 2013, with the number of all sorts of HR service institutions reaching 39,568 and relevant staff totaling 674,836 by the end of 2019, according to a report released by the Ministry of Human Resources and Social Security (MOHRSS) this May.
In the meantime, the MOHRSS and relevant provincial and municipal authorities have built up 19 state-level HR service industrial parks in Shanghai, Chongqing, Hangzhou, Chengdu, Xi'an, Beijing, Tianjin, Guangzhou, Shenzhen, etc., since 2010. By the end of 2019, the industrial parks had over 2,700 enterprises with an operating revenue of 195 billion yuan in total, becoming a highlight of local economic development.
The emergence of HR industrial parks as compared with comprehensive parks reflect the maturing of the HR service industry and it could better perform basic HR services such as talent-job matching, full employment and talent circulation while giving full play to industrial-park functions such as resource agglomeration, incubation, innovative model development among others, to boost the high-quality development of HR service industry, observers say.
But it does not stop at clustering.
The recently released China Talent Index by Chengdu Human Resource Service Industry Park and China Economic Information Service, for instance, gave a peek into how information technology can advance HR service industry digitalization as well as talent digitalization.
Relying on the Big Data technology and index system, the China Talent Index clearly presents and interprets the talent development trends in different regions that can help local governments, regional talent institutions, enterprises, etc. quickly sense local talent status and development trend thus making policies and plans accordingly.
China will speed up its digital development, according to the Communist Party of China (CPC) Central Committee's development proposals for formulating the 14th Five-Year Plan (2021-2025) for National Economic and Social Development and the Long-Range Objectives Through the Year 2035 adopted at the fifth plenary session of the 19th CPC Central Committee late October, and this provides new opportunities for many industries including HR service industry, said Cheng, noting that some of the "forced" changes by the epidemic will facilitate this digital trend.
THE COOPETITION MINDSET
In the meantime, a more digitalized HR service industry is likely to see rising competition as a more "connected" service system would blur traditional boundaries, and this will lead to more "centralized" market with leading enterprises and well-developed industry parks taking larger share of the cake, according to Cheng.
Such idea is echoed when a "Human Resources Partner Platform" was announced at the China Human Resource Service Industrial Parks Summit held earlier this month co-launched by Shanghai Human Resources Service Industrial Park and Career International.
The industry is facing challenges such as fierce market competition, low industry concentration, and uneven service quality after previous years' fast development, said Li, explaining that the platform aims to "move the industry from a Zero-Sum state to a Coopetition (cooperation and competition) state".
As an innovative HR service product, the platform aims to resolve supply-demand imbalance through intelligent matching and maximize the collaboration between different HR service agencies, sharing business opportunities and job resources, prompting the HR service organizations in the industrial park to focus on their areas of expertise and co-share the dividends of industry growth, according to Li, introducing that the platform currently has aggregated more than 5,000 service providers and more than 8,000 cooperative orders.
The summit also marked the 10th Anniversary of Shanghai Human Resources Service Industrial Park, China's first national human resource industrial park.
In 2019, Shanghai's HR service industry revenue reached 406.4 billion yuan, accounting for about one-fifth of the country's total. It introduced 221,000 high-level talents and helped with employment and labor flow of 15.303 million, according to data released at event. Next step, Shanghai will further delegate the approval authority for HR service licenses and explore the mutual recognition of HR service licenses in the Yangtze River Delta, according to an official with the municipal government. (By Niu Huizhe with Xinhua Silk Road, niuhuizhe@xinhua.org)