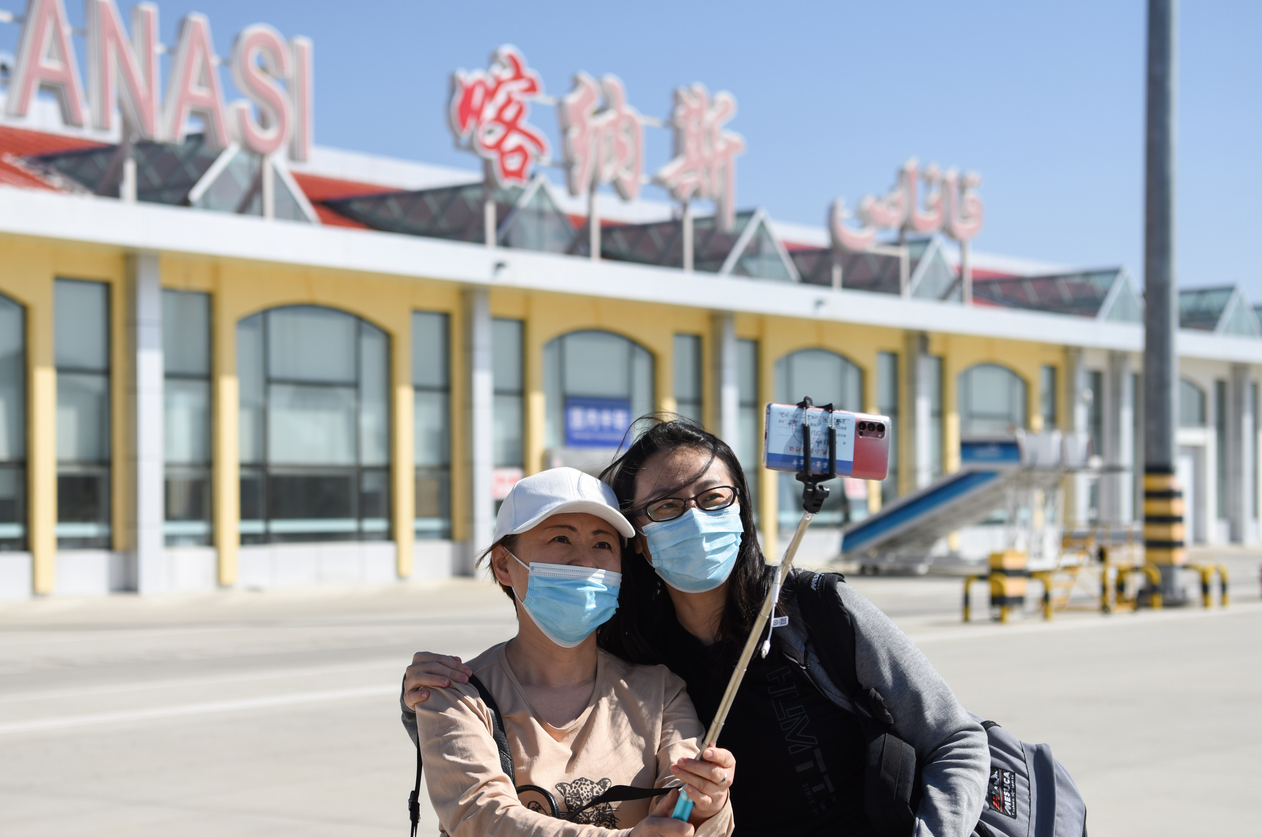 BEIJING, Dec. 10 (Xinhua) -- Since the outbreak of the COVID-19 in the early 2020, China's culture and tourism industry has suffered a lot from the impact brought by the epidemic.
In 2019, the total revenue of China's tourism industry was 6.5 trillion yuan, an average of 17.8 billion yuan a day, said Wei Xiaoan, chief expert of the World Tourism Cities Federation, adding that one day of stagnation would bear such a loss.
However, the rise of new models including "cloud economy" and "smart tourism", as well as a strong rebound of domestic tourism during China's National Day golden week under the regular epidemic prevention and control have brought new opportunities for the development of China's culture and tourism industry.
-- A crisis but also an opportunity for the culture and tourism industry
Affected by the epidemic, China saw its domestic tourist trips and tourism revenue in the first half of 2020 reach 1.168 billion and 0.64 trillion yuan respectively, down 62 percent and 77 percent year on year.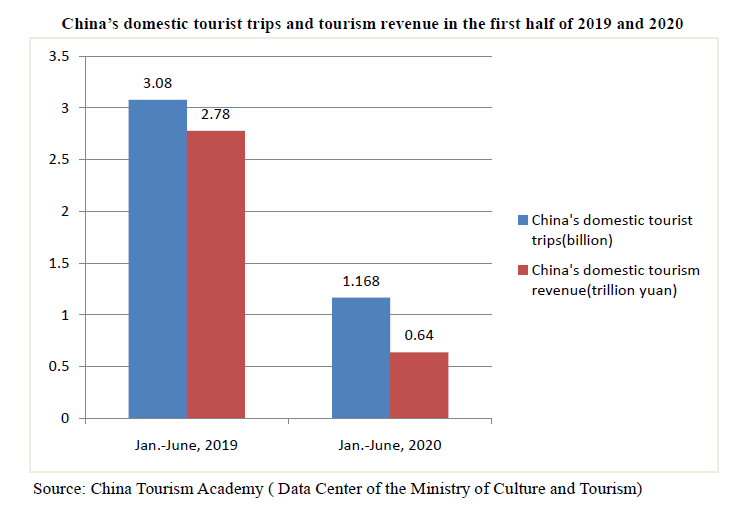 During China's traditional Spring Festival holiday, which was supposed to be a golden week for culture and tourism activities, the culture and tourism industry was heavily affected by the epidemic outbreak when scenic spots were closed, performing arts activities were canceled, hotels and airline tickets were refunded, films were withdrawn and cinemas and bookstores were closed.
From the perspective of the tourism supply end, the tourism industry has been affected as a whole. In the first half of this year, most of the employees in the tourism industry were out of work and travel agencies underwent deficits in general; the vast majority of hotels were unable to open as usual, with sharp declines in the occupancy rates in the short term; flights were canceled or grounded, which severely impacted inbound and outbound tourism; scenic spots were all required to be closed; and stock value of the tourism sector reduced dramatically, especially for such sub-industries as scenic spots, travel agencies and restaurants.
Opportunities always coexist with crisis. While bringing negative effects, the epidemic has also accelerated the industry's transformation and generated the development of new models.
On February 23, eight major museums in China simultaneously launched online livestreaming. Within a day, nearly 10 million people poured into the online museum platform, which was equivalent to nearly the annual number of visitors to the Louvre in France.
Cloud tourism is characterized by "seeing the world without leaving home". Although it cannot replace the real travel activities, it will become an important supplement to culture and tourism consumption and increasingly become a standard product of culture and tourism projects.
Cloud entertainment, cloud livestreaming, cloud exhibition and other new forms of business have attracted a soaring number of users, said Gao Zheng, head of industrial development division of the Ministry of Culture and Tourism of China, adding that a lot of VR (virtual reality) culture and tourism products have been spread online, enabling people to enjoy China's beautiful landscapes and colorful culture without leaving home.
Along with the regular epidemic prevention and control, the digital culture and tourism industry has been increasingly regarded as an important field to promote high-quality development of local industry in various regions of China, Gao added.
With the shift of residents' cultural consumption preference from offline to online, enterprises or institutions that were mainly engaged in offline business have made continuous innovations by actively embracing new technologies and exploring cross-field cooperation.
-- Turning crisis into opportunity in the post-epidemic era
During the National Day and Mid-Autumn Festival holiday in 2020, Chinese tourists restarted their travel plans that had been postponed for more than half a year, and the tourism industry accelerated its recovery under the new regular epidemic prevention and control.
According to data released by China's Ministry of Culture and Tourism, during the 8-day holiday, the country received a total of 637 million domestic tourist trips, and the domestic tourism revenue reached 466.56 billion yuan, which recovered by 69.9 percent on year-on-year basis.
The big data from Mafengwo, a travelling website in China, showed that the unit prices of homestays, hotels, local tours and other products were slightly higher compared with the same period last year during the holiday, and the tourists' demands for safety and quality drove the upgrade of tourism consumption.
Domestic epidemic prevention and control efforts have given tourists the confidence to travel safely. Meanwhile, reservation service and intelligent high-level management launched by major scenic spots have also provided a powerful security guarantee for tourists nationwide.
For example, China's Chongqing has launched a culture and tourism big data product, with the aim of controlling Chongqing's culture and tourism passenger flow data and business indicators.
On November 30, China's ten ministries including the Ministry of Culture and Tourism and the Ministry of Commerce jointly issued the Opinions on deepening the "internet + tourism" to promote high-quality development of tourism, proposing the in-depth integration plan of "internet + tourism" in eight aspects, such as tourism information infrastructure and tourism public service model.
According to the document, the construction of smart scenic spots should be accelerated, and state-owned scenic spots should all provide online booking services by the end of 2021; tourism information infrastructure should be improved, and 5G network should be covered in key tourism areas.
In addition, efforts should be made to support tourism innovation, guide development such new forms of business as cloud tourism, cloud performing arts, cloud entertainment, cloud livestreaming and cloud exhibition, and foster a new model of "online experience + consumption".
Meanwhile, the application of Beidou navigation satellite system, wearable devices, electronic fence, remote sensing satellites and other technologies and equipment should be promoted in self-service tourism and special tourism.
Deep integration of internet and traditional tourism will greatly enhance the efficiency of information interaction between various departments and reduce communication and operation costs, so as to build the smart tourism industry and realize intelligent management, service and marketing of scenic spots, said Fu Yifu, director of consumer finance research center of Suning Institute of Finance.
Together with the policy support and the continuous maturity of digital technologies, the cloud tourism will become an important force in driving the growth of the tourism industry and even the entire consumer market, Fu added.
Instead of stopping people from pursuing a better travel experience, the epidemic has accelerated the arrival of the smart tourism era. In the post-epidemic era, the culture and tourism industry will improve its own advantages, strengthen the intelligent management level to meet tourists' requirements for safety and quality and pull the upgrade of traditional tourism consumption.
(Edited by Gao Jingyan with Xinhua Silk Road, gaojingyan@xinhua.org)