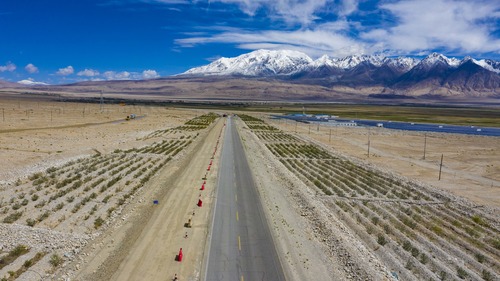 Aerial photo taken on June 14, 2019 shows a section of Karakorum Highway (KKH) on the Pamir Plateau, northwest China's Xinjiang Uygur Autonomous Region. (Xinhua/Hu Huhu)
BEIJING, Dec. 3 (Xinhua) -- China's Ministry of Transport recently approved pilot implementation plans submitted by many provinces and regions on promoting the construction of transport infrastructure projects, reported Economic Information Daily on Thursday.
According to Li Xiaopeng, head of the Ministry of Transport, China is stepping up efforts in developing a strong country in transportation, and building a modern transportation system.
East China's Anhui Province proposed to strengthen tourism channels in the province by building highways connecting trunk roads with tourist attractions.
South China's Guangdong Province will give priorities to promote the construction of a world-class airport cluster in the Guangdong-Hong Kong-Macao Greater Bay Area.
Shanghai vows to enhance the service and management level of aviation hub in three to five years, and to vigorously promote the coordinated development of civil aviation in the Yangtze River Delta.
Meanwhile, east China's Jiangxi Province is speeding up to develop new transportation infrastructure. For example, the province proposes to build a green and efficient urban distribution system and encourage the development of smart delivery facilities.
In addition, east China's Fujian Province is making efforts in fostering a number of high-quality network freight enterprises and promoting the integrated development of advanced manufacturing industry and modern service industry.
(Edited by Jiang Feifan with Xinhua Silk Road, 346129473@qq.com)