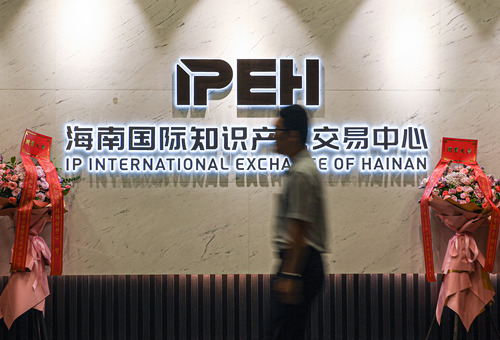 Photo taken on Aug. 29, 2020 shows the IP International Exchange of Hainan in Haikou, south China's Hainan Province. An international intellectual property (IP) exchange started operation Friday in China's southern province of Hainan, as the latest measure to support the construction of the Hainan free trade port. (Xinhua/Pu Xiaoxu)
BEIJING, Dec. 3 (Xinhua) – Chinese authorities are accelerating the formulation of the 14th Five-Year Plan (2021-2025) for intellectual property industry and the outline for strategic development of the industry through the year 2035, reported the Economic Information Daily recently.
Both central and local governments have lately implemented relevant policies to enhance all-around intellectual property right (IPR) protection such as improving protection mechanism and stiffening punishment for infringement.
Experts point out that the advancement of the new round science and technology revolution and industrial transition will further highlight the role of intellectual property as an innovative resource of development strategy and an essential element of international competitiveness.
Meanwhile, the strategy of innovation-driven development in place requires profound reform to the intellectual property regime and mechanism in light of the actual conditions of industrial development, which serve as a new impetus for the transition and upgrading of advantageous sectors and faster development of emerging sectors of strategic significance.
--Incentive mechanism to promote commercial use of IP
Shen Changyu, Administrator of National Intellectual Property Administration (NIPC) said thatdevelopment plans will systematically map out commercial use of intellectual property by offering more incentive policies, improving market-based intellectual property system and regime, and vigorously developing intellectual property-intensive industries.
Intellectual property itself is an institutional design for respecting talents, and promoting science and technology innovation and application by legalized empowerment and policy incentives, said Guan Yuying, a researcher of Institute of Law under the Chinese Academy of Social Sciences (CASS).
Guan added that increasing investment in science and technology innovation, developing high-quality technological achievements and turning them into market-oriented applications can achieve major breakthroughs in the fields of key technologies.
In fact, a series of systems around the commercial use of intellectual property have been established in China, providing incentives and guarantees for scientific and technological innovation.
The fourth amendment to China's patent law laid out some new provisions to boost patent commercial use such as improved on-duty invention system, new open patent licensing system, better commercialization service for patents, etc.
NIPC and nine ministries including the Ministry of Science and Technology (MOST) have jointly launched pilot reform of equity allocation of intellectual property in 40 units as the first batch to propel commercial use of intellectual property.
Statistics show that the expanding scale of intellectual property in China has created considerable economic benefits. In 2018, China's added value of patent-intensified sectors reached 10.71 trillion yuan, accounting for 11.6 percent of national GDP. In the first ten months of this year, China witnessed 1.232 million applications for invention patents with a year-on-year increase of 11.2 percent.
-- The full coverage of IPR protection
Protection of intellectual property rights is the key and precondition to give full play to the value of intellectual property.
The Standing Committee of the National People's Congress on November 11 adopted the decision on amending the copyright law to substantially raise the upper limit of legal damages for infringement and clarify the principle of punitive damages, so as to further safeguard the legitimate rights and interests of copyright owners.
Meanwhile, the Fourth Amendment to Patent Law also increases the compensation for patent infringement, and improves the burden of proof and the pre-litigation act preservation.
Prior to this, the Supreme Court of China also unveiled the opinions to tighten the judicial protection of intellectual property rights, strive for lower litigation cost, shorter litigation period and larger amount of damages for infringement, and thus effectively consolidate the judicial protection.
Chinese provinces and regions are also stepping up efforts for stronger protection of intellectual property rights. Among them, provinces including Shaanxi, Qinghai, Zhejiang, and Henan enacted policies and detailed rules for intellectual property right protection in the aspects of better protection regime, stronger law enforcement supervision, bigger punishment for infringement, etc.
East China's Zhejiang Province announced an action plan to strengthen intellectual property rights protection in key industries and sectors.
In Central China, Henan Province developed vowed to strengthen the civil and criminal judicial protection and impose severe punishment for any malicious infringement, repeated infringement and other serious violations according to law.
Guan Yuying added that a sound intellectual property legal system and effective protection mechanism are crucial to the implementation of innovation-driven development strategy. Therefore, it is necessary to pay more attention to the top-level design of intellectual property protection regime, fully improve the related legal awareness in walks of life, and secure intellectual property right protection in place in its real sense.
--Further deepening of regime and mechanism reform
Relevant experts said that the core task to build a strong intellectual property right protection is to promote the comprehensive output of excellent science and technology achievements and cultural products, and turn them into the productivity that drives social and economic development.
In this process, China should keep deepening the intellectual property right regime and mechanism reform, and uplift the efficiency of commercial use of intellectual property in line with the actual conditions of industry development.
A lawyer from east China's Anhui Province commented that the commercial application rate of intellectual property remains low in China. A large number of patents have no involvemnet in market demand and industrial technological innovation, and a scientific and comprehensive value assessment system for intellectual property is yet to be formed in China.
Guan Yuying suggests relevant authorities to guide more government funds to support scientific research in key fields and commercialization of technological achievements, and instruct local governments to prioritize the policy making for intellectual prperty-intensive sectors.
Guan added that a credit system for science and technology activities and IPR application and utilization should be developed. In addition to investigation of liability, any Research and Design (R&D) fraud, intellectual property right counterfeiting, encroachment of other's intellectual property, abuse of legal proceedings, and cheating for preferential policy should be subject to certain punishment in the internal assessment system under the science and technology framework.
(Edited by Jiang Feifan with Xinhua Silk Road, 346129473@qq.com)