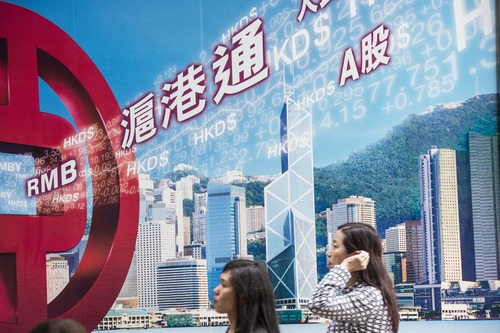 BEIJING, Dec. 2 (Xinhua) -- The Stock Connect schemes linking Shanghai and Shenzhen equity markets with Hong Kong's saw southbound investment far outrun the northbound investment at 611.925 billion Hong Kong dollars in the first 11 months of this year, reported Xinhua Finance, a Xinhua-run financial information platform Wednesday.
The figure, which greatly exceeded the comparable data since debut of the southbound trading of the Stock Connect schemes in 2014, hinted continued capital inflow into the Hong Kong stock market.
By November 30, net southbound investment under the Shanghai-Hong Kong stock connect program and Shenzhen-Hong Kong stock connect scheme this year rose to 320.71 billion Hong Kong dollars and 291.215 billion Hong Kong dollars.

On the contrary, northbound investment under the Shanghai-Hong Kong and Shenzhen-Hong Kong stock connect programs were at relatively low levels at 47.416 billion yuan and 104.278 billion yuan in the first 11 months.
From September to November, southbound investment has trending to more obviously outrunning northbound investment. Net southbound investment was 187.874 billion Hong Kong dollars or 162.567 billion yuan while net northbound investment stood at merely 25.179 billion yuan.
Analysts attributed the robust fund flow into Hong Kong stock market to the September temporary bottoming of the Hang Seng Index, which, as a benchmark for blue chip stocks traded on the Hong Kong stock exchange, has declined over five percent this year.
In spite of the lukewarm Hong Kong stock market, new economy-related stocks turned out eye-catching this year. By Tuesday close, stock prices of Tencent Holdings Ltd. (00700.HK), Meituan (03690.HK), Alibaba Group Holding Limited (09988.HK) and Xiaomi Corporation (01810.HK) reaped 54.32 percent, 183.81 percent, 24.13 percent and 142.58 percent of gains this year.
Huang Xiang, head of equity strategy with Credit Suisse's China affiliate, suggested investors interested in China A-shares, H-shares or overseas listed stocks of Chinese companies continuing their investment in stocks related to new economy and new industries.
As Huang believed, China's economic development and policies are still likely to support in particular science and technology, new energy vehicle sector, etc. in the future and the traditional industries need to undergo significant changes to gain favor from market players.
In the mid- and long-term, the price gap between A-shares and H-shares is expected to narrow down but it may take some time, added Huang. (Edited by Duan Jing with Xinhua Silk Road, duanjing@xinhua.org)