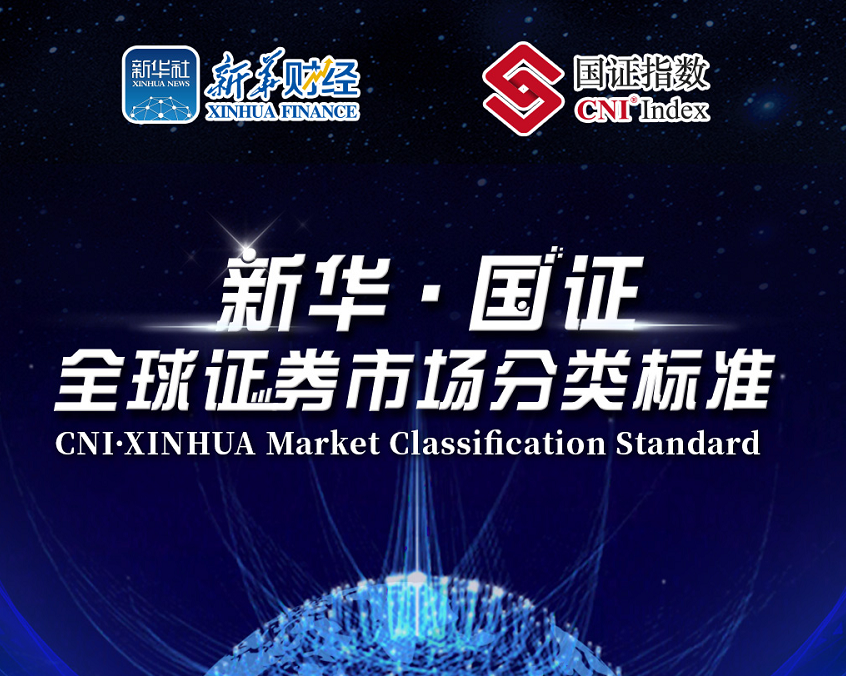 BEIJING, Nov. 30 (Xinhua) -- CNI·XINHUA Market Classification Standard developed jointly by China Economic Information Service (CEIS) of Xinhua News Agency and Shenzhen Securities Information Co., Ltd. was released on Monday.
The move aims to establish an internationally comparable market classification standard with Chinese characteristics, serve the needs of cross-border asset allocation, and provide domestic investors with a more open and inclusive global index system.
With the implementation of the two-way opening of China's capital market, the demand for global asset allocation is increasing in the domestic market.
Xinhua Finance, as a national financial information platform built by the CEIS, plays an active role in the process of global asset allocation and serves the market players through indexation tools. As a member of the Index Industry Association (IIA), Shenzhen Securities Information is committed to comprehensively improving the internationalization of index business.
As the first domestically-developed global securities market classification standard, the CNI·XINHUA Market Classification Standard is based on the Chinese perspective.
From the perspective of investment, the standard divides the securities markets of the countries and regions into developed markets, emerging markets, frontier markets, and special focus markets. The emerging markets are further divided into advanced emerging markets and secondary emerging markets.
As of November 2020, it has covered 92 securities markets around the world, including 24 developed markets, 28 emerging markets (16 advanced emerging markets and 12 secondary emerging markets), 23 frontier markets, and 17 special focus markets.
From the perspective of the evaluation system, the CNI·XINHUA Market Classification Standard is produced based on the evaluation of the four dimensions including macroeconomics, market capacity, investment environment, and market cooperation.
The scientific and effective market classification can improve the efficiency of asset allocation and effectively differentiate the systemic risks in different regions and markets, and further help establish a risk framework for overseas investment research, according to Yang Chao, an official of the Tianhong Asset Management Co., Ltd.
Although cross-border investment has just started in China, it is very necessary to establish investment standards that reflect China's perspective in the long run, said Wang Yang, head of the index and quantitative investment department with the Bosera Asset Management Co., Limited.
The following shows the CNI·XINHUA Market Classification Standard.
1. Developed markets (24)
United States of America, United Kingdom, Japan, China's Hong Kong, France, Canada, Germany, Switzerland, Australia, Netherlands, Spain, Singapore, Sweden, Italy, Belgium, Denmark, Norway, Finland, Israel, Austria, Ireland, New Zealand, Portugal, Luxembourg
2. Advanced emerging markets (16)
China, India, Republic of Korea (ROK), China's Taiwan, Brazil, South Africa, Russia, Thailand, Indonesia, Malaysia, Mexico, Philippines, Chile, Poland, Turkey, Hungary
3. Secondary emerging markets (12)
Saudi Arabia, United Arab Emirates, Qatar, Colombia, Peru, Pakistan, Bangladesh, Argentina, Egypt, Greece, Czech Republic, Kuwait
4. Frontier markets (23)
Vietnam, Morocco, Botswana, Kazakhstan, Nigeria, Kenya, Jordan, Bahrain, Croatia, Oman, Romania, Sri Lanka, Mauritius, Ghana, Tunisia, Slovenia, Malta, Cyprus, Serbia, Cote d' Ivoire, Estonia, Lithuania, Slovakia
5. Special focus markets (17)
Panama, Lebanon, Bulgaria, Ukraine, Jamaica, Iceland, Azerbaijan, Belarus, Palestine, Cambodia, Laos, Mongolia, Bosnia, Latvia, North Macedonia, Burkina Faso, Senegal
(Edited by Hu Pingchao with Xinhua Silk Road, hupingchao@xinhua.org)