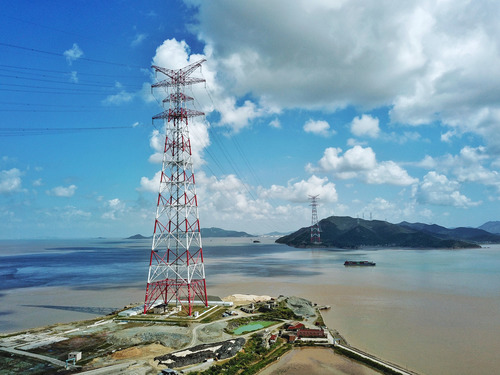 Photo taken on September 29 shows the cross-sea transmission tower sends 500 kilovolts of electricity from the main grid to Zhoushan through cross-sea overhead lines, providing a strong energy guarantee for the development of Zhejiang Pilot Free Trade Zone and Ningbo Zhoushan Port in east China's Zhejiang Province. (Xinhua/Zhang Fan)
BEIJING, Nov. 27 (Xinhua) – East China's Zhejiang province is set to unveil measures and action plans for supporting the quality development of Zhejiang Pilot Free Trade Zone (FTZ), according to a press conference on Zhejiang FTZ construction held on Thursday.
The move aims to strengthen the joint development of the existing and expansion areas of the FTZ and speed up the exemplary role of the Zhejiang FTZ in the country, according to Sheng Qiuping, head of the Department of Commerce of Zhejiang Province.
Sheng added that Zhejiang FTZ will see growths of GPD and Research & Design (R&D) expenditure both two percentage points higher than the province's average.
Meanwhile, the total foreign trade and actual utilization of foreign capital in the FTZ are expected to register growths three percentage points surpassing Zhejiang's averages, said Sheng.
According to the draft action plan, Zhejiang FTZ would promote innovation in development mechanism.For example, the province will put efforts in exploiting digital FTZ and expanding the Electronic World Trade Platform (eWTP).
Priorities will be given to facilitate the development of trade, investment, financial, and the digital economy, to promote the opening up of Zhejiang FTZ. For example, it will allow foreign-funded enterprises to apply for special license qualifications related to the e-commerce industry in the FTZ.
Zhejiang would introduce 20 detailed policies in talents, investment, finance, taxation, and land use to facilitate the high quality development of the FTZ.
It is noted that a series of major reform projects and policies have been settled in the FTZ since it expansion on September 24, 2020.
(Edited by Jiang Feifan, with Xinhua Silk Road, 346129473@qq.com)