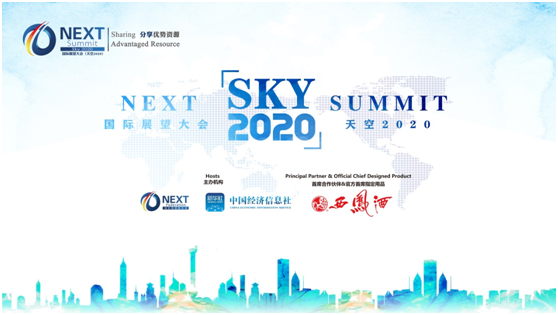 BEIJING, Nov. 25 (Xinhua) -- The NEXT Summit (Sky 2020), co-hosted by NEXT Federation and China Economic Information Service (CEIS) of Xinhua News Agency, was held on Wednesday to commemorate the solidarity, courage and contribution of human beings in the fight against the COVID-19 pandemic and to promote global innovation, cooperation and sustainability.
Themed on "Sharing Advantaged Resource", the summit was composed of online and offline events.
The online events included forums on medicine and health, energy conservation and environmental protection, agricultural science and technology, digital innovation, digital governance, think tank cooperation, cultural industry and unimpeded trade. The online forums provided platforms for participants to share the latest scientific and technological research achievements, wisdom and practices.
The offline activities were the opening ceremony, keynote speech, New Zealand National Brand Award Ceremony, "Hurricane Lamp" Award Ceremony, and VIP dinner held in Auckland, New Zealand.
More than 60 international political leaders, renowned scholars, business leaders from 12 countries including New Zealand, China, Indonesia, the Republic of Korea, Egypt, Pakistan, Singapore, Australia, etc. were attracted to participate in the summit and share their insights and cases in various industrial fields.
H.E. Dr. Essam A. Sharaf, the Rotating President of NEXT Federation and former Prime Minister of Egypt, said in his keynote speech that people all over the world are connected and should remain connected. When facing global challenges like the COVID-19, human beings should work together to find solutions so as to promote global economic and social development.
Dr. Yoo Jae-Hoon, Vice President of NEXT Federation, former Controller and Special Advisor to the President of the Asian Infrastructure Investment Bank, said that the NEXT Federation is firmly committed to building a global platform for integration and transformation of industrial resources. For this purpose, the NEXT Summit (Sky 2020) aimed to address key topics emerging from the recent development of global landscape as well as social and industrial evolution.
Gong Xixiang, Secretary-General of Xinhua News Agency, said that as the first Western developed country to sign a cooperation agreement on the Belt and Road Initiative (BRI) with China and participate in the Asian Infrastructure Investment Bank, New Zealand always takes the lead in the construction of the Belt and Road. On its part, China has shared policy measures, research results, technologies, and other resources with other countries to help them blunt the impact of the pandemic and return to the normal track of economic development. Based on the successful experience of resource sharing between China and New Zealand, the summit this year is expected to gather and share more advantageous resources to promote global economic recovery and realize common development in a larger scope.
The previous sessions of the NEXT Summit were held in Auckland in 2017, Hangzhou in 2018 and Dubai in 2019. (Edited by Su Dan with Xinhua Silk Road, sudan@xinhua.org)