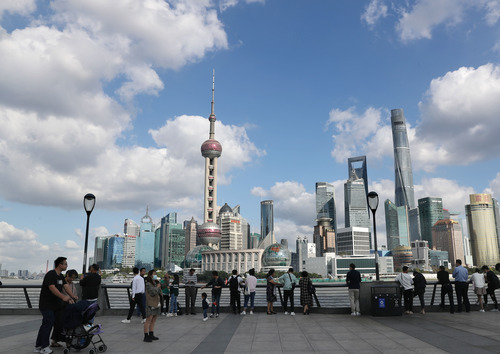 SHANGHAI, Nov. 18 (Xinhua) -- East China's Shanghai is accelerating fostering leading industries and major industry clusters in a bid to realize digital transformation, said an official on Tuesday.
According to the official with Shanghai Municipal Commission of Economy and Informatization, Shanghai is quickening its pace to develop three leading industries including integrated circuit, biomedicine and artificial intelligence, as well as six major industry clusters including electronic information, automobiles, high-end equipment, advanced materials, health and fashion.
Based on a three-year plan released by Shanghai to build more than 100 intelligent factories, the municipality will strive to optimize supply-side capabilities, continue to promote intelligent transformation and upgrading in automobiles and electronic information industries. In the next three years, Shanghai is expected to deploy 10,000 robots in production lines and warehouses, which will stimulate 30 billion yuan worth of new investment.
During the 14th Five-Year Plan period (2021-2025), Shanghai will carry out a special action that enables artificial intelligence to empower the manufacturing industry, in a bid to integrate the advantages of massive data, cloud computing power and intelligent algorithms.
Previously, Shanghai has unveiled a plan to build 26 specialized industrial parks, and will build more in the future. (Edited by Zhang Yuan with Xinhua Silk Road, zhangyuan11@xinhua.org)