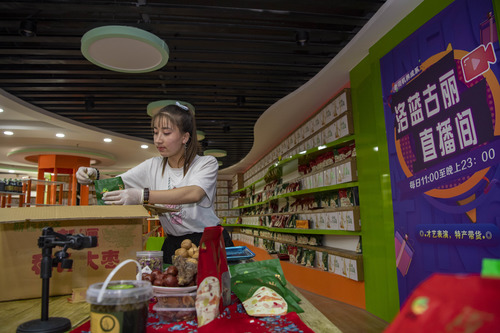 A young employee prepares dried fruit orders at an e-commerce industrial park in Lop County of Hotan Prefecture, northwest China's Xinjiang Uygur Autonomous Region, Sept. 26, 2020. (Xinhua/Hu Huhu)
BEIJING, Nov. 11 (Xinhua) – China's State Administration for Market Regulation (SAMR) on Tuesday published antitrust guidelines for preventing and curbing monopolistic trading in online business to solicit public opinions, reported the Xinhua-run cnstock.com Tuesday.
The guidelines define monopoly as trading behaviors concerns with "monopoly agreement," "abuse of dominant market position," "concentration of operators," and "abuse of administrative power to eliminate competition unlawfully."
Specifically, the online operation may be recognized as monopolistic when operator offering consumers with subsidies, discounts, concessions, traffic resource support, and other incentives to limit transactions, according to the guidelines.
China's online business has been active in various fields in recent years and has gained a higher market share, but no enterprise can abuse the market share, which is the dominant market position in legal terms, according to Guo Song, a lawyer from Tahota Law Firm in Shenzhen.
Guo added that the guidelines deliver detailed rules on the operation of online businesses on the basis ofChina's antitrust law.
The SAMR has recently issued a batch of supportive documents regulating the development of the online economy before the guidelines, which mainly involve the review of operators, the regulation of promotion behavior, and the supervision of live-streaming businesses.
It is noted that after the "Double eleven" online shopping festival on November 11, the market supervision department will introduce institutional measures to regulate the development of the online economy to help the formation of a comprehensive online financial supervision system.
Tian Xuan, deputy dean of Tsinghua University PBC School of Finance, said that supportive documents are conducive to form a comprehensive regulatory system for online businesses to prevent and control potential risks promptly.
(Edited by Jiang Feifan with Xinhua Silk Road, 346129473@qq.com)