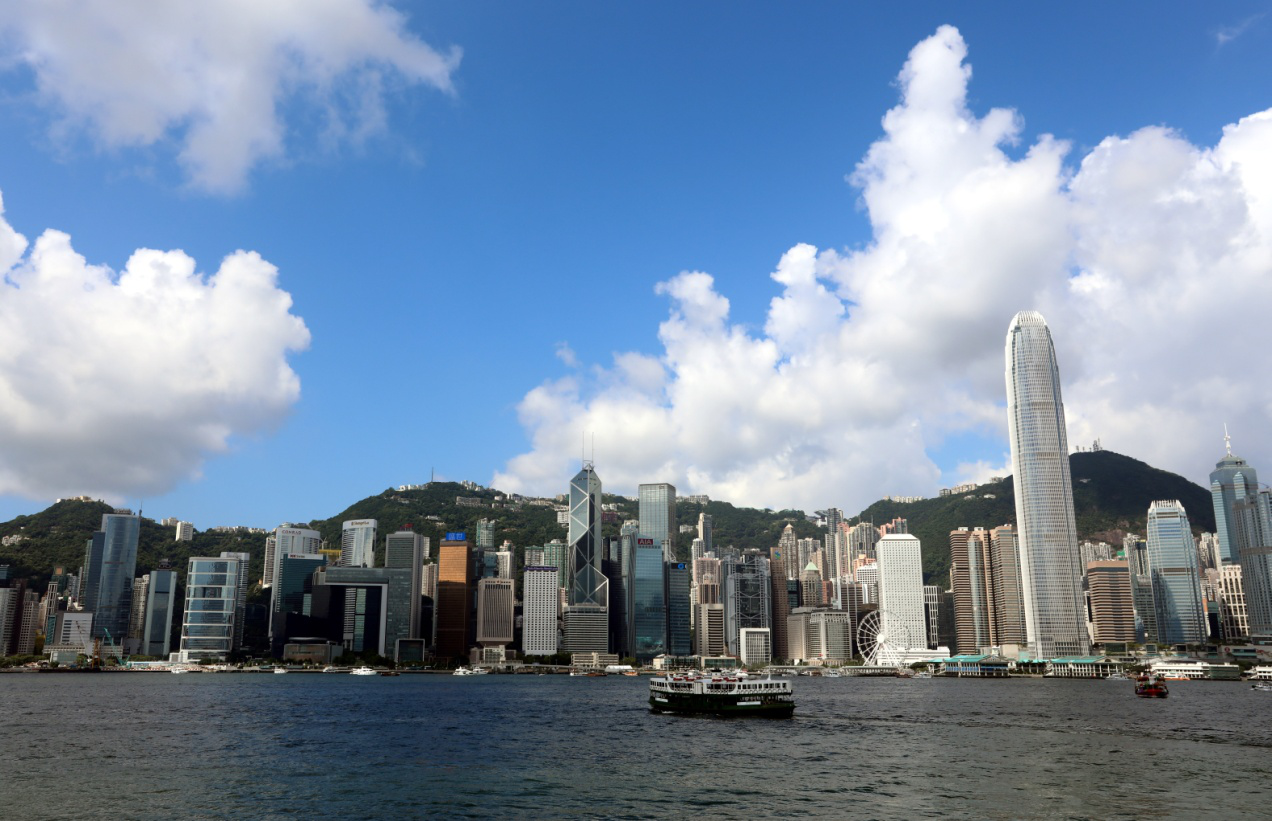 HONG KONG, Oct. 28 (Xinhua) -- Industries such as finance and e-commerce in Hong Kong have shown strong performance with the help of technology and Internet application, despite the fallout of the COVID-19 epidemic.
--- Financial industry withstands test
Ant Group on Monday announced that its public offering in Hong Kong started from Oct. 27 and last until Oct. 30. Its shares are expected to be listed on the Hong Kong Stock Exchange (HKEx) on Nov. 5.
Before Ant Group's listing in Hong Kong, well-known Internet companies such as JD.com and NetEase also went to Hong Kong for secondary listings.
According to statistics, in the first half of 2020, Hong Kong's IPOs ranked third in the world. It is estimated that the total amount of IPO financing in the Hong Kong stock market for the whole year may reach 400 billion HK dollars.
Data from the HKEx show that the average daily turnover in the first nine months of 2020 amounted to 125.7 billion HK dollars, an increase of 39 percent from the 90.5 billion HK dollars in the same period in 2019.
Industry insiders note that the active fundraising of new stocks and the continuous rise in transactions have supported Hong Kong's financial industry to perform well under the epidemic.
Xu Yibin, executive director and CEO of Yaocai Securities, said that Hong Kong's financial industry has benefited from the rapid development of online trading, and the demand for various online trading channels, such as online trading platforms and mobile APP trading, are also increasing.
Driven by the domestic technology stocks, the Hong Kong stock market also performed well, creating a good atmosphere and attracting many enterprises' IPOs here. Under such circumstances, the financial industry in Hong Kong was barely affected by the epidemic, thanks mainly to the numerous IPO cases.
Yang Yuchuan, chief macro economist at Huada Securities, said that most financial institutions in Hong Kong have better incomes this year than in 2019. As Hong Kong's financial industry can largely rely on information technology for services, it is hardly hit by the epidemic. On the other hand, the return of the Chinese concept stocks to Hong Kong and the reform of the HKEx's listing system also encourage many technology and innovation companies to list in Hong Kong.
However, Tan Yuehengye, chairman of BOCOM International, warned that the current Hong Kong finance still faces risks and the real economy is not good. It will eventually be reflected in the market. The Hong Kong capital market is now a structural market. Technology stocks thrive, but stocks of other industries look gloomy. Whether this situation can continue is a question.
-- E-commerce in Hong Konghighlighted
Besides the finance industry, e-commerce in Hong Kong also gives hope to many local enterprises, which bailed them out from the plight of the epidemic.
For example, the e-commerce company in Hong Kong, HKTVmall has grown against the decline trend and successfully turned losses into profits in the first half of 2020, recording a net profit of 109 million HK dollars. It is the first time that the company has turned losses into profits in the recent five years since starting operation.
Hong Kong's TV station, Asia Television, has also begun to test the waters and turned to e-commerce too, making use of its own production advantages and artist resources to create key opinion leaders (KOLs) and improve the level of promotion with goods.
Chen Jianwen introduced that Hong Kong's retail industry is currently experiencing a "cold winter". In order to find a new way out, Bonjour, a leading cosmetics sales company in Hong Kong, began to seek digital transformation in March this year, hoping to bring more job opportunities to employees in this way.
Affected by the epidemic, Hong Kong's exhibition area has dropped by 90 percent since February 2020, and many large international exhibitions have been cancelled, said Li Keyi, vice president of Global Sources Exhibition Department, adding that the company has begun to turn to online procurement platforms and launch online exhibitions. (Contributed by Li Binbin, edited by Hu Pingchao with Xinhua Silk Road, hupingchao@xinhua.org)