BEIJING, Oct. 16 (Xinhua) -- A medicinal food health culture festival on Thursday kicked off in Zhangshu, a reputed capital of traditional Chinese medicine (TCM) in east China's Jiangxi Province.
Culinary masters from well-known local restaurants and hotels gathered in Sanhuang Palace historical and cultural blocks to showcase the inheritance and production art of traditional medicated meals with innovative cooking techniques.
As a sub-activity of the 51st Zhangshu National TCM Materials and Pharmaceuticals Trade Fair to be opened in Zhangshu on Friday, the medicinal food health culture festival aims at carrying forward the Chinese medicinal food health culture by building a cultural exchange platform, and promoting the integrated development of TCM and tourism.
The event will last for three days, and activities like medicinal food exhibition, special lecture on medicinal food health culture, expert discussion, expert consultation and TCM capital photography exhibition will be held.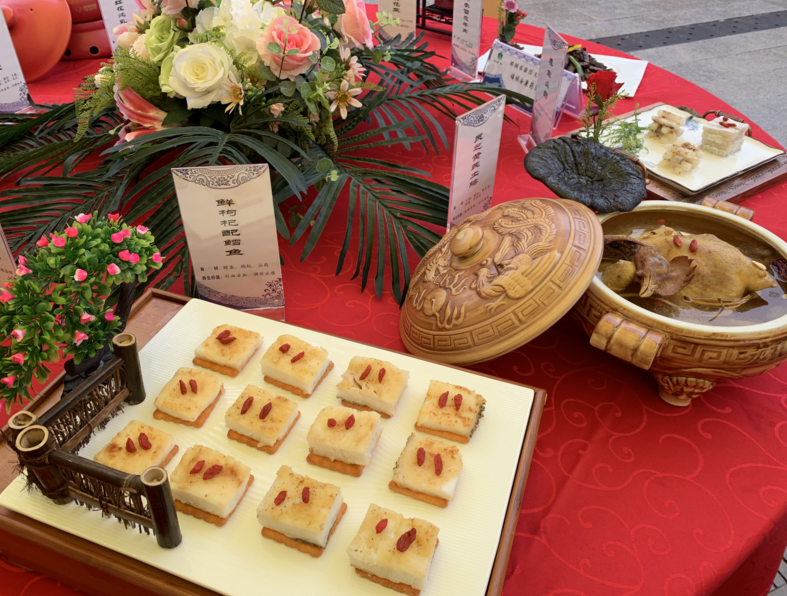 Photo shows the medicinal food exhibition at the medicinal food health culture festival kicked off Thursday in Zhangshu.
As a TCM capital, Zhangshu boasts a pharmaceutical development history of over 1,800 years, and has developed distinctive medicinal food health culture covering medical care, health preservation, daily diet, folk custom, etc.
In recent years, the city has developed more than 100 varieties of medicinal food delicacies, and formed unique medicinal food production techniques integrating medicine, traditional Chinese pharmacology, nutrition and gastronomy.
In June 2010, Zhangshu's medicinal food production techniques have been included in the third batch of Jiangxi's provincial intangible cultural heritage list. (Edited by Gu Shanshan with Xinhua Silk Road, gushanshan.1987@163.com)