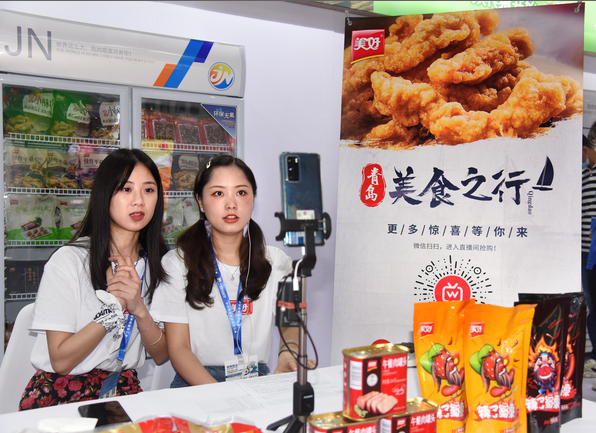 Exhibitors introduce products by livestreaming on a mobile phone during the 18th China International Meat Industry Exhibition in Qingdao, east China's Shandong Province, Sept. 10, 2020. (Xinhua/Li Ziheng)
BEIJING, Oct. 15 (Xinhua) -- China's livestreaming e-commerce market is expected to reach the scale of 1.05 trillion yuan this year, with its penetration rate in the overall e-commerce industry up from 4.1 percent last year to 8.6 percent, according to a report jointly released by KPMG and Alibaba's research institute AliResearch.
Livestreaming e-commerce emerged in China in 2009 and flourished in 2019.
As the report told, the market size of China's livestreaming e-commerce was 433.8 billion yuan in 2019, soaring 210 percent year on year.
The growth momentum is expected to continue in 2021, when the livestreaming e-commerce market in China is projected to have a size of nearly two trillion yuan, according to the report.
The appeal of livestreaming e-commerce is that it introduces a human element to online shopping, which makes it more social and interactive, in comparison with picture and short video-based shopping, for customers to get a better understanding of products and enjoy the shopping experience, said Kang Yong, chief economist with KPMG China.
Meanwhile, due to reduced circulation links, livestreaming promotion makes products more affordable. For example, previously, after clothes were made in factories, they had to go through three or four links before they were delivered to consumers, with each link charging 15 percent to 20 percent more of the price. However, as the intermediate links are cut in livestreaming sessions, consumers can buy clothes at a lower cost.
Speaking of the possible forms of livestreaming e-commerce in the future, Mao Jian, partner and head of Consumer & Retail Sector Consulting of KPMG China, said that augmented reality (AR) or virtual reality (VR)-based livestreaming shopping may prevail as consumers' offline consumption experience and online shopping behavior are expected to further integrate with each other. (Edited by Su Dan with Xinhua Silk Road, sudan@xinhua.org)