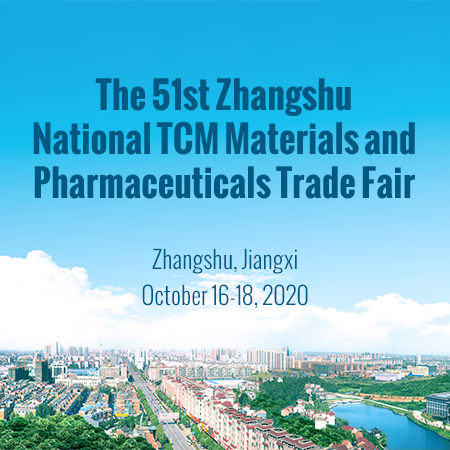 BEIJING, Oct. 14 (Xinhua) – The 51st Zhangshu National Traditional Chinese Medicine (TCM) Materials and Pharmaceuticals Trade Fair will commerce in Zhangshu City, a reputed capital of TCM situated in east China's Jiangxi Province on Friday, said Cai Qingping, executive deputy mayor of Zhangshu at a news conference held recently.
Themed on "inheriting essence and upholding innovation", the fair is a 3-day event divided into four sections respectively centering upon economy and trade, academic exchanges, industry training and culture, and includes 15 activities which have already attracted 352 enterprises to register for participation.
Highlighting the concept of being a digital trade fair, this year's Zhangshu National TCM Materials and Pharmaceuticals Trade Fair makes cloud exhibition available for participants and provides one-stop digital services including online participation and attendance, visiting and procurement, intelligent supply and demand matching and precise transaction consultation, said Yin Zhiping, mayor of Zhangshu.
As Yin introduced, an "Internet + medicine" experience hall will be built at the fair's exhibition hall to display real-time trading of the fair. Besides, touch screens, mobile phone apps and other terminals will be provided to strengthen the interactions between participants and the fair.
This year, the fair will embrace four new special activities, namely, the China Academy of Chinese Medical Sciences (CACMS) Forum, the 5th Conference on Traditional Chinese Medicine Development of Basic Level in East China, the "Tiangong Cup" Vocational Skills Competition for Traditional Chinese Medicine and the Zhangshu Medicinal Diet and Healthcare Culture Festival.
During the fair, CACMS is scheduled to release a new book entitled Standards for Geo-Authentic Crude Chinese Herbs, and famous Chinese cooking masters and nutrition experts will also gather in Zhangshu to promote medicinal diets and delicacies.
In recent years, Zhangzhu took advantage of Jiangxi Province's strategy of developing the province through TCM and poured great efforts to promote the "Capital of TCM" revitalization program.
By mapping out a series of preferential policies including the trial measures for promoting development of TCM materials planting industry and the supporting and awarding policies for introducing Top 100 Chinese pharmaceutical enterprises, Zhangshu boasts 326 pharmaceutical enterprises at present. Among them, 75 are large pharmaceutical firms with annual revenue from major business at above 20 million yuan. The city has a total traditional Chinese medicinal herbs planting area of 29,907 hectares, ranking the first among all counties and cities in Jiangxi. (Edited by Duan Jing with Xinhua Silk Road, duanjing@xinhua.org)