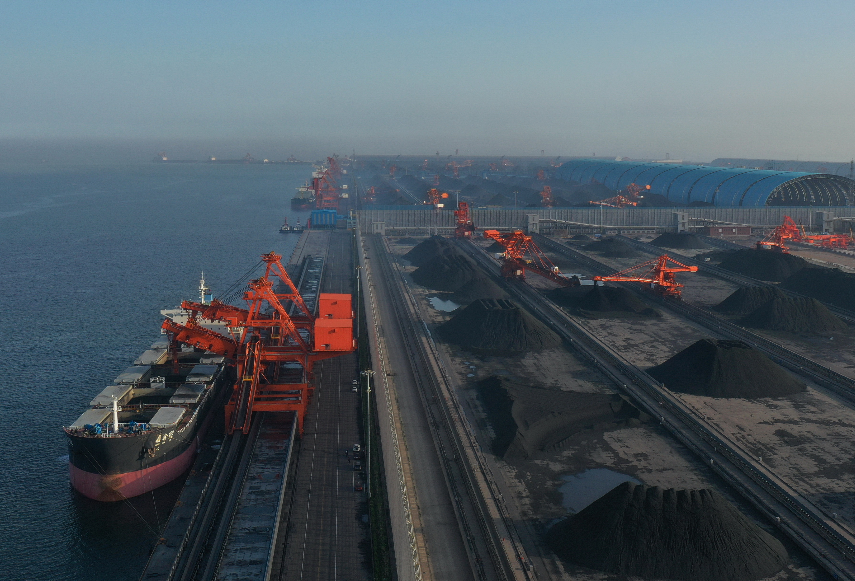 Aerial photo taken on May 22, 2020 shows a bulk carrier loading cargoes at a newly built coal berth of Caofeidian Port in Tangshan, north China's Hebei Province.
BEIJING, Oct. 13 (Xinhua) -- Coal prices in China have recently showed an uptrend which many industry insiders believe was the result of the tight market supplies, according to the Xinhua-run Shanghai Securities News on Tuesday.
Taking power coal as an example, the FOB prices of the power coal have continued to rise after breaking through the level of 600 yuan/tonne in the past two weeks. The CCI5500 power coal index, released by the sxcoal.com, stood at 613 yuan/ton on October 10.
A few days ago, China Shenhua Energy Company announced the phase-one long-term coal prices in October, with both the long-term monthly prices and annual prices on the rise. To be specific, the monthly long-term prices saw a significant rise and the 5,500 kcal power coal was quoted at more than 600 yuan/tonne, an increase of 53 yuan/tonne from the previous month.
Many top executives of the leading listed coal companies in China have attributed the recent coal price hike to the tight market supplies.
"This month, prices of the company's various types of coal products have basically risen by 20-30 yuan/tonne," said a person in charge of Jizhong Energy Resources Co., Ltd (000937.SZ).
Under the circumstances of the stocks for the eight-day National Day holiday and the winter, the coal procurement demand has been good since September, leading to the rise in prices to a certain extent. On the supply side, due to coal mine safety and environmental protection issues, the output of the company's coal mines has declined, according to a person in charge of the Shanxi Coal International Energy Group Co., Ltd (600546.SH).
An industry insider said that this round of coal price increase is another peak for coal prices after July 5, 2019. The main reason for the increase in coal prices this time is the limited supply and the continuous rebound in demand. (Edited by Hu Pingchao with Xinhua Silk Road, hupingchao@xinhua.org)