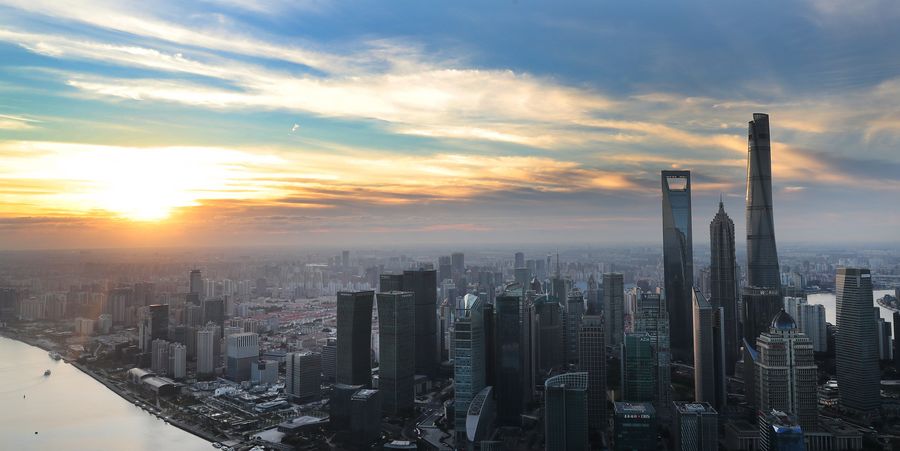 Photo taken on Nov. 1, 2018 from the Baiyulan Plaza shows view of the Lujiazui area in Pudong of Shanghai, east China. (Xinhua/Fang Zhe)
BEIJING, Sept. 27 (Xinhua) -- FTSE Russell's future pace to formally include Chinese government bond (CGB) into its World Government Bond Index (WGBI) may be up to the factual effects of China's opening up policies for bond market , reported Xinhua Finance, a Xinhua-run financial information platform citing a report of Hua Chuang Securities on Sunday.
On last Friday, FTSE Russell announced to include CGB into the WGBI from October 2021 upon a formal affirmation in March next year, which, as analysts interpreted, largely resulted from the frequent debut of China's opening up policies for bond market in September.
If formally included, relatively large size of passive fund inflows into China's bond market as from October of 2021 will benefit mid- and long-term Treasury bond products in China.
Apart from these, prospects for unchanged foreign capital inflow in the long term will also boost China's bond market, given the positive factors behind such as China's likely further opening-up of bond market, relatively limited disturbing effect on foreign capital influx out of external frictions and wide yield spread between the Chinese and U.S. government bonds.
Hua Chuang Securities attributed the postponed inclusion partially to large positions change of foreign investors and yet-to-be-observed effect of recent opening up policies on China's bond market, saying that the future appraisal result may affect the inclusion cycle of CGB into the WGBI.
Despite CGB has reached the required standards of WGBI, there may be a certain period of observation before the formal inclusion, said Hua Chuang Securities.
In light of the relatively large size of foreign fund tracking the WGBI, the change of portfolio weightings may generate huge influences therefore the FTSE Russell announced to include CGB into the index in least 12 months, similar to inclusions of CGB into other global bond market benchmarks such as the Bloomberg Barclays Global Aggregate Index (BBGA). (Edited by Duan Jing with Xinhua Silk Road, duanjing@xinhua.org)