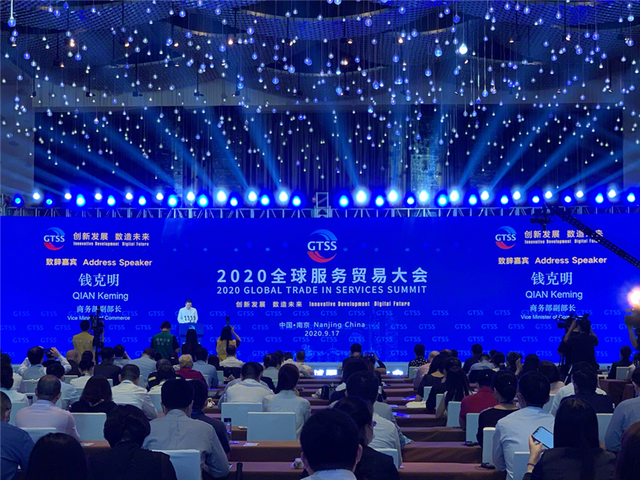 BEIJING, Sept. 23 (Xinhua) -- China ranked the 20th in terms of the trade in services in the world from 2017 to 2019, remaining stable for three consecutive years, according to the Report on the Development Index of Trade in Services in the World (2020) released by the Chinese Academy of International Trade and Economic Cooperation (CAITEC) in a conference held recently.
The development index of trade in services in the world is the world's first evaluation system developed by government research institute to track the development of trade in services.
According to the report, China's service trade volume amounted to 785 billion U.S. dollars in 2019, ranking the second in the world.
Viewing from the sub-indices of the global trade in services index, China decreased from the 7th place in 2018 to the 8th place in 2019 in terms of the trade scale. Its ranking increased from the 72nd to the 67th place in terms of the trade structure. As for the status, China's ranking fell from the 8th to the 6th place. From the perspective of industrial basis, China's ranking surged from the 41st to the 20th place. Its ranking in trade environment increased from the 59th to the 41st place.
The report attributed the changes of the sub-indices mainly to the following two aspects. On the one hand, the continuous improvement of China's business environment has been the main internal driving force for the rapid increase in the country's environmental index. On the other hand, external factors including increasingly fierce global competition and complex world situation have influenced the internationalization of China's service industry. Hence, some of the sub-indices went up, while others went down, with the whole keeping stable.
In terms of the development of trade in services in domestic China, Beijing and Shanghai are the leading cities in this regard, while Guangdong Province and Jiangsu Province ranked the 3rd and 4th respectively. (Edited by Zhang Yuan with Xinhua Silk Road, zhangyuan11@xinhua.org)