The world's first patent was issued on July 31, 1790. Samuel Hopkins was patented by U.S. president George Washington for a process of making potash, an ingredient used in fertilizer.
Nowadays, patent has become a form of intellectual property that gives its owner the legal right to exclude others from making, using, or selling an invention for a limited period of years in exchange for publishing an enabling public disclosure of the invention. In some industries patents are an essential form of competitive advantage.
With the development of international trade, e-commerce, and many other emerging business activities, the patent data becomes increasingly important and more measures to enhance intellectual property rights (IPR) protection has been adopted in China and many countries.
So, where can people find an official, accurate and complete patent database?
Here may be a pleasant answer: The first patent, as well as more than 80 million patents issued since then, can be seen in Xinhua Silk Road Database, website at https://en.imsilkroad.com/database/index.html.
What is the Economic Data of Xinhua Silk Road Database?
Economic Data is a statistical sub-database of Xinhua Silk Road Database, a BRI-centered database covering B&R-related news wire service, E-magazines, reports, data, etc. and serves well as a toolkit for institutions to obtain thorough knowledge about China and B&R economies.
In the Economic Data sub-database, users can find such segments as patent data, macro data, industry data, etc.
What are the advantages of the patent data section?
--Wide Time Coverage
The patent data section includes all patent data from July 31, 1790 to May 2019 with a total of more than 80 million pieces of data.
--Multiple Search Fields
The database enjoys a multiple search fields, including the patent's title, abstract and keywords, applicant and inventor name, application and publication number, application and publication date, etc.
-- Abundant Data Source
The patent data section provides users with the patent data search service of the WIPO (World Intellectual Property Organization) and the World's Five Largest Intellectual Property Offices (IP5) , Known as the IP5, including the USPTO, the European Patent Office (EPO), the Japan Patent Office (JPO), the Korean Intellectual Property Office (KIPO), and the State Intellectual Property Office of the People's Republic of China (SIPO).
How to use the database?
StepI: Register and log in to Xinhua Silk Road Database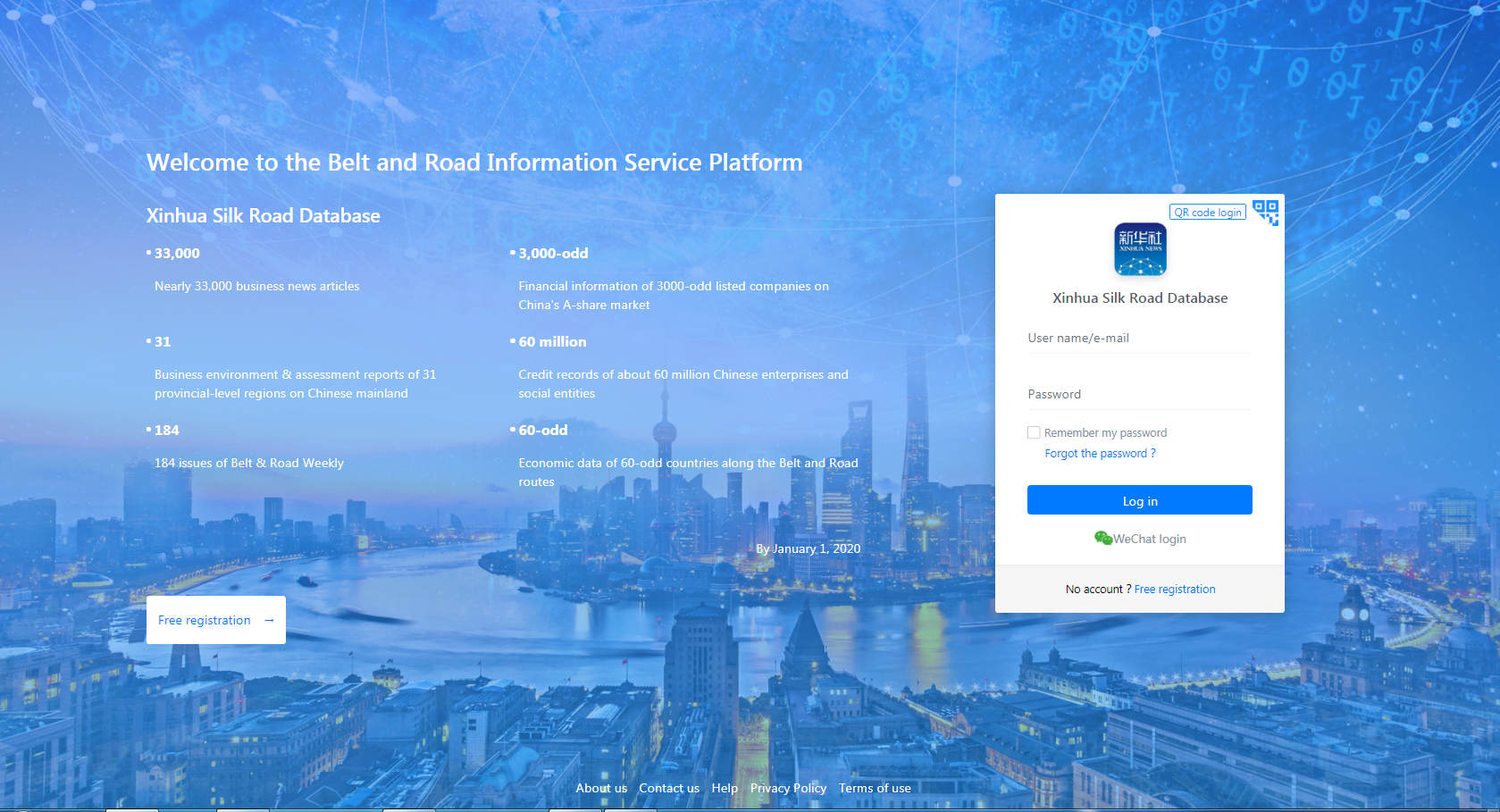 https://en.imsilkroad.com/login
Step II: Find the Economic Data sub-database of Xinhua Silk Road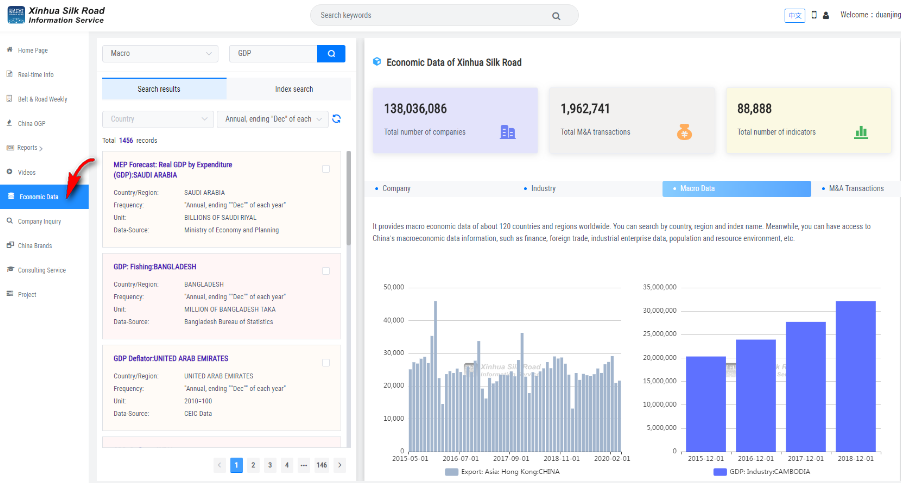 Step III: Find Patent in the pull-down list of Economic Data sub-database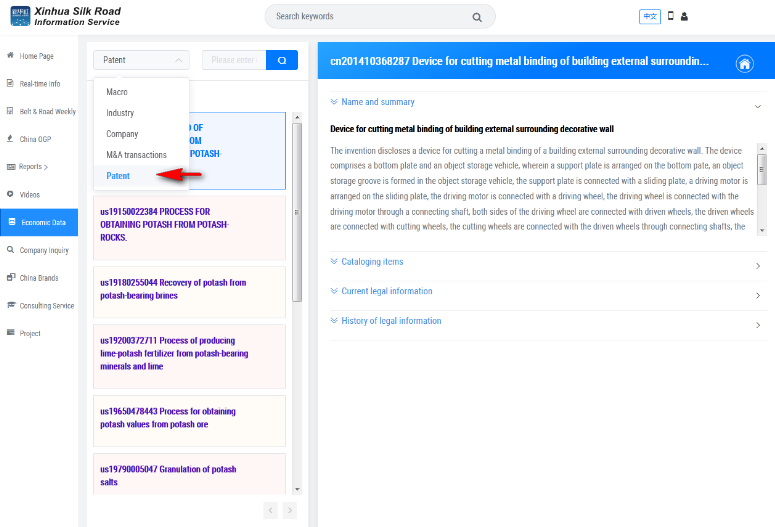 Step IV: Enter the patent's title, abstract or keywords, applicant or inventor name, application or publication number, etc. to find the one you would like to know. Then you could see the patent information including name and summary, cataloging items such as application number, applicant etc., and also the historical and current legal information of the patent.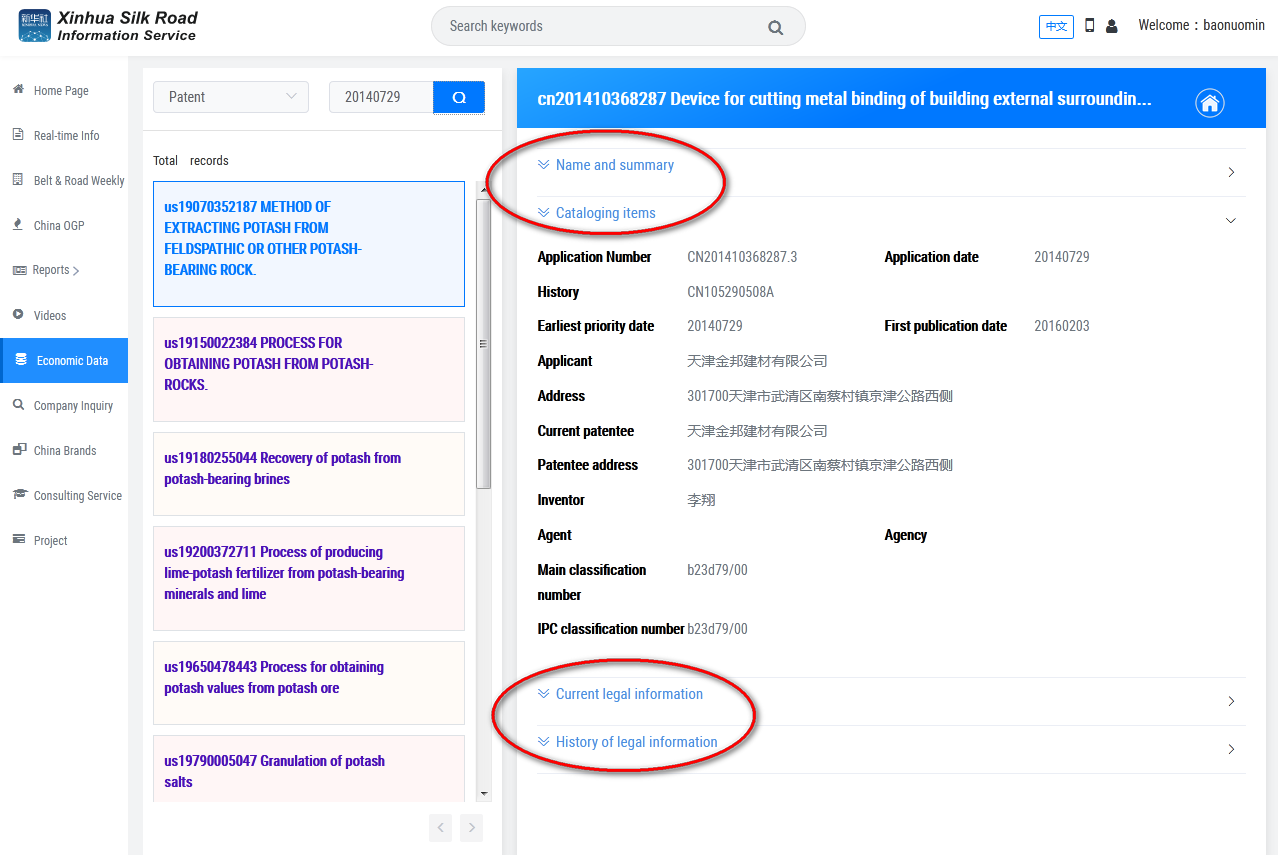 Xinhua Silk Road Database belongs to Xinhua Silk Road Department of Xinhua-run China Economic Information Service (CEIS). For free trial, please search for Xinhua Silk Road and apply for free registration at https://en.imsilkroad.com/register.
For more information about Xinhua Silk Road's products and services, please contact us.
Tel: 86-10-63077787/63073951
E-mail: silkroadweekly@xinhua.org
(Contributed by Gao Jingyan with Xinhua Silk Road, gaojingyan@xinhua.org)