The United Nations Office for South-South Cooperation (UNOSSC) and the China-Africa Development Fund (CADFund) have published the South-South in Action series of seven case studies showing the great impact made by the CADFund in Africa in advancing the achievement of the UN sustainable development goals (SDGs).
The cases present some of the best practices in South-South and triangular cooperation initiatives and provide a window for Southern partners to learn and recognize the opportunities for collaboration that exist in the South.
As one of the important initiatives of the Forum on China-Africa Cooperation, the CADFund has been committed to serving China-Africa cooperation with a market-oriented approach, giving full play to its financial advantages and guiding role as a platform in the 13 years since its establishment.
The CADFund introduced Chinese enterprises as well as Chinese capital, technologies, production capacity and management experience which help create employment opportunities, increase tax revenues and enhancing productive capacities of Africa.
The third case of this series focuses on Hisense Appliance Industrial Park Project in South Africa, jointly invested by the CADFund and Hisense Group Co., Ltd., which has improved the local manufacturing level and brought beneficial changes to the local economy and social life.
Overview
In March 2013, the CADFund and Hisense Group Co., Ltd. signed an investment cooperation agreement to jointly invest in the construction of the Hisense South Africa Appliance Industrial Park (Hisense South Africa) in order to improve the local manufacturing level and meet South Africa's manufacturing demands. Mr. XI Jinping, President of China, and Mr. Jacob Zuma, then-President of South Africa, witnessed the signing. The project was put into operation in that same year, with a total investment of $150 million and an annual output of 540,000 refrigerators and 390,000 televisions. The Hisense South Africa won South Africa's Best Product Award in 2017.
The home appliances that Hisense South Africa produces enjoy the largest sales volume in the local market and are exported to more than 10 African countries. The implementation of the project has not only promoted South Africa's employment and exports but has also improved the country's manufacturing and technical capacity. Through "Made in Africa", it has also improved the local management, logistics and post-sales service, promoted the development of related industries, won the praise of South African leaders and people, and become a well-known brand in South Africa. Ebrahim Patel, Minister of Economic Development of South Africa,commented on the project: "South Africa will not only become a global supplier of industrial raw materials but also become a production centre in the future. Hisense South Africa Appliance Industrial Park will make this dream come true as soon as possible".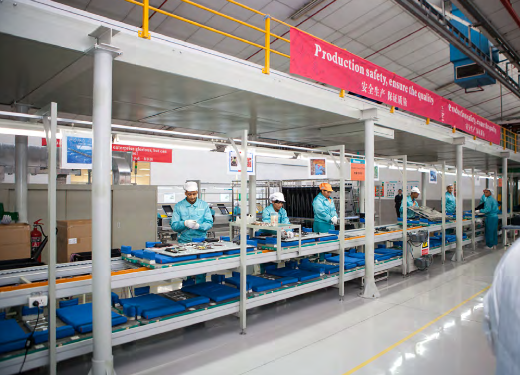 Operation
Hisense South Africa uses advanced technologies to enhance market recognition of the brand. It produces mainly high-end green products such as energy-saving and environmentally friendly refrigerators and intelligent 3D high-definition televisions, which effectively meet the growing needs of local families. In addition, it promotes energy conservation, environmental protection and upgrading of capacity. Hisense South Africa strictly abides by the principles of energy conservation and environmental protection in all stages from the selection of raw materials and production to processing. It has responded to the call of the Government of South Africa to "save electricity and solve the imbalance between energy supply and demand" and has become the first homeappliance enterprise in South Africa to produce energy-saving products with low power consumption.
The project took measures that were suitable in the local context and in line with the local development plans. It made plans for phased development covering various dimensions such as brand, operation, manufacturing, research and development, logistics, after-sales and channels to eventually establish a household-appliance industry platform able to provide overall solutions, driving investment by trade, expanding beyond trade to include factory-building and production, andhelping with the optimization and upgrading of African productivity.
Impact
Hisense Group Co., Ltd. provided capital to (a) set up factories in Africa, (b) implement localized management, (c) increase job opportunities, (d) bring foreign exchange and tax revenues to the local region, (e) provide support based on its technical and management experience, (f) effectively improve the local manufacturing industry, and (g) promote sustainable development of the African manufacturing industry without increasing government expenditure.
a. Provision of employment opportunities and eradication of poverty
Before the construction of the Park, the unemployment rate in the Atlantis community where the Park is located was as high as 40 per cent, and many working-age people were unemployed. Hisense South Africa has employed 700 local people, accounting for 90 per cent of its total employees. Through driving upstream and downstream products and services, it has indirectly created 2,000 jobs. In 2019, Hisense South Africa systematically trained approximately 1,000 unemployed youth ages 18 to 25 in rural areas.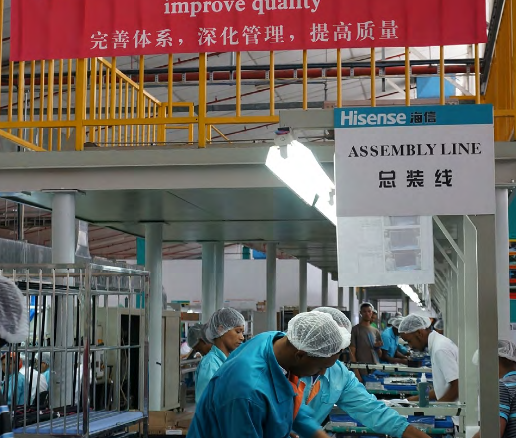 b. Helping South Africa to improve self-development capacity and achieve sustainable development
Hisense South Africa has trained a group of local employees in the country through "mentoring and passing on experience"; those employees have now been hired for 40 per cent of the management positions. Hisense South Africa not only improves the local manufacturing capacity and technical level but also nurtures "talents in production, technology and management" to help South Africa to enhance its capacity for sustainable economic development. It has also cooperated with the Atlantis Secondary School to build the Hisense South Africa Technology Research and Development Training Base, which carries out personnel training on products, technology research and development, and techniques, enabling the students to master the skills needed for electronic technology, electronic software and electrical equipment control, which has been warmly welcomed by the local society.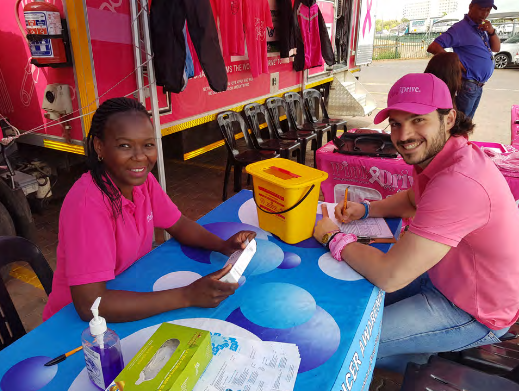 c. Promotion of the harmonious development of the community and social fairness
After Hisense South Africa entered the Atlantis community, the local employment problem was solved and the community security environment improved. The number of female employees in the factory has reached 197, accounting for more than 25 per cent of its total employees. Hisense South Africa has been supporting orphanages, welfare institutions for the disabled, community schools, youth education centres and other public welfare undertakings and actively serving local communities. Around 500 Hisense South Africa employees participate in more than 100 public-welfare activities each year, with a cumulative donation of more than $1 million. In the past five years, Hisense South Africa, as the largest enterprise in the community, has greatly improved the environment and outlook of the community and helped with the elimination of unstable social factors, benefiting 69,000 community residents.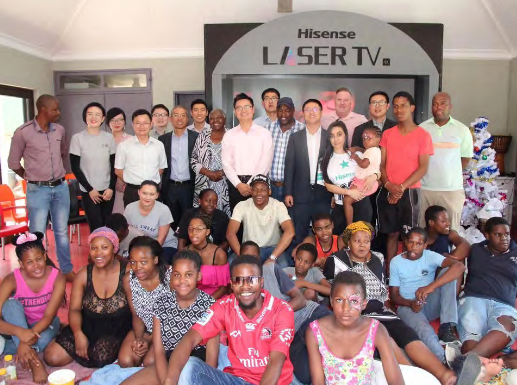 d. Continuous increase in the contribution of HisenseSouth Africa Appliance Industrial Park to the local community
Hisense South Africa has created 700 jobs directly and more than 2,000 jobs indirectly for the local area, paying a total of $93 million in taxes and bringing in $58 million in foreign exchange. In addition, while the home appliance plant remains the core of the Park, approximately 200 service providers have been attracted to operate in the Park.4.
Replicability
The approach adopted by the project, namely, to drive investment by trade, expanding beyond trade to include factory-building and production, and help with the optimization and upgrading of regional productivity, as well as the project's innovative value-chain model that combines "industry and park" can be replicated in African countries with adequate infrastructure and a relatively large market scale.
(Source: United Nations Office for South-South Cooperation, China-Africa Development Fund)