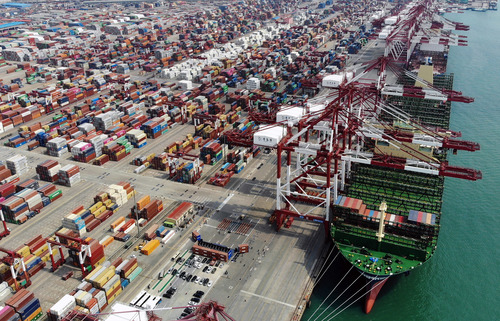 Aerial photo taken on April 26, 2020 shows HMM Algeciras docking at Qingdao Port in Qingdao, east China's Shandong Province. (Xinhua/Li Ziheng)
BEIJING, Sept. 11(Xinhua) – Qingdao, a major coastal city in east China's Shandong Province, saw its foreign trade hitting 395.54 billion yuan in the first eight months of the year, up four percent year on year, according to Qingdao Customs.
During the period, Qingdao's exports picked up 8.3 percent year on year to 232.17 billion yuan, said the customs.
In August alone, the city's foreign trade totaled 53.72 billion yuan, up 13 percent year on year, of which the exports amounted to 33.57 billion yuan, an increase of 25.4 percent year on year.
In the first eight months, private enterprise in Qingdao registered 252.43 billion yuan of foreign trade, up 12.9 percent year on year, accounting for 63.8 percent of the city's total during the period.
Meanwhile, Qingdao's trade with the Belt and Road (B&R) countries surged 14.1 percent year on year to 109.49 billion yuan, accounting for 27.7 percent of its total foreign trade in the period.
Qingdao's combined trade volume with its two major trading partners, the Association of Southeast Asian Nations (ASEAN) and the European Union (EU), grew 21 percent and 10.7 percent year on year, respectively.
In terms of emerging industries, Qingdao's cross-border e-commerce foreign trade surged 334 percent to 1.5 billion yuan in the same period, of which online shopping tax declaration imports increased by 667 percent to 800 million yuan.
(Edited by Jiang Feifan with Xinhua Silk Road, 346129473@qq.com)