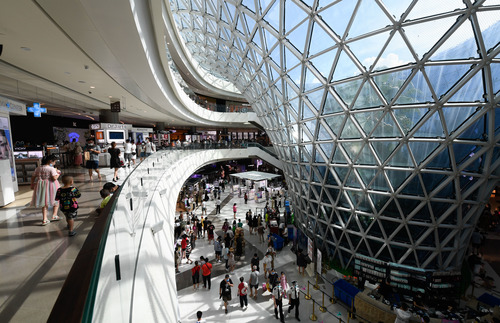 Tourists shop at a duty-free shopping mall in Sanya City, south China's Hainan Province, Aug. 6, 2020. (Xinhua/Yang Guanyu)
BEIJING, Aug. 25 (Xinhua) -- South China's Hainan Province has invested 40.6 billion yuan into major projects' construction since the year begins till August 17, reported Hainan Daily Monday.
During the period, the province witnessed 19 major projects have been started construction, with an operating rate of 95 percent.
Among these projects, China's first self-operated deep-water gas field in Lingshui city of Hainan has completed the first phase of construction, and it is expected to be put into operation next year.
The second phase in expansion project of Haikou Meilan International Airport was successfully tested on July 30 and is expected to be completed and used within this year.
According to Hainan's annual construction plan in 2020, it plans to build a total of 105 major projects in the year, with an overall investment of 377.2 billion yuan.
The projects are divided into four categories based on the construction progress, including completed projects, continued projects, newly launched projects and preparatory projects, covering the key areas of three pillar industries namely tourism, modern service industry and high-tech industry, tropical agriculture, public services, ecological protection, and infrastructure.
(Edited by Jiang Feifan with Xinhua Silk Road, 346129473@qq.com)