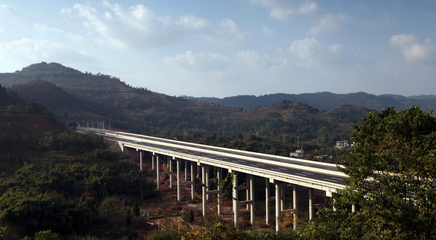 BEIJING, Aug. 3 (Xinhua) --The joint office for construction of Chengdu-Chongqing economic circle recently unveiled two lists including 31 key projects to be jointly launched by China's Sichuan province and Chongqing Municipality, with a total investment of 556.3 billion yuan, reported by Sichuan Daily on Saturday.
Among the 31 key projects, there are 19 projects in transportation infrastructure construction with a total investment of 451.6 billion yuan, aiming to construct the transportation network within the two cities and open up new multiple transportation channels to other provinces including high-speed rail, highway and shipping.
In addition, 5 projects will be launched to complete the logistics network and the construction of ports and stations that connect internal and external hubs.
The key projects also involve 2 new infrastructure projects related to 5G network coverage and artificial intelligence integration application platform and 5 industrial projects as well.
In the future, Chongqing and Chengdu will jointly make effort to improve the construction conditions of the projects, coordinate and solve the difficulties and problems during the construction process, and accelerate the implementation of the projects. At the same time, the two cities will also continue to strengthen the major project reserves and strategic planning to enrich its project database. (Edited by Gao Jingyan with Xinhua Silk Road, gaojingyan@xinhua.org)