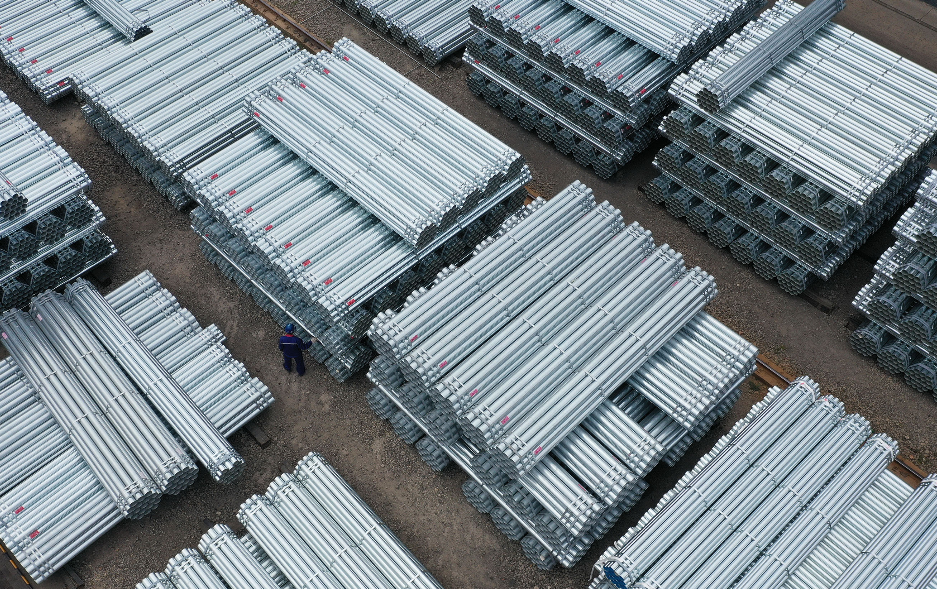 File photo shows steel products in Tangshan city, a major steel production base in China.
BEIJING, July 31 (Xinhua) -- China's major steels mills have enhanced production of high-performance steels and striven for the high-quality development, according to the China Iron and Steel Association (CISA).
The CISA statistics show that from 2010 to 2019, the proportion of low alloy steel and alloy steel in crude steel produced by key steel enterprises monitored by the CISA increased from 39.79 percent to 49.73 percent, and the proportion of high-performance steel production and application has increased significantly, driving and supporting the development and upgrading of the downstream steel industry.
"At present, made-in-China steel products such as automotive steel, electrical steel for large transformers, high-performance long-distance pipeline steel, high-speed steel rails, and construction bridge steel have steadily entered the first echelon," said He Wenbo, Party chief of the CISA, at a steel conference on Thursday.
While seeing the technological innovation, the domestic steel industry has also made progress in green production.
According to the CISA, from 2015 to 2019, the average comprehensive energy consumption by the key steel mills monitored by the CISA decreased from 574 kg of standard coal to 553 kg of standard coal for producing one of steel; sulfur dioxide emissions decreased from 0.90 kg to 0.47 kg, a reduction of 48 percent; and the dust emission fell from 0.79 kg to 0.48 kg, a reduction of 39 percent.
The domestic steel mills have to strive for sustainable development, grasp opportunities brought about by the new technologies, and integrate smart sensors, fifth-generation mobile communications, Internet of Things (IoT), artificial intelligence, big data, and cloud computing into the steel manufacturing and operation decision-making process, according to He.
The country's crude steel output reached a record high of 996 million tonnes in 2019, and will remain at a relatively high level in the future, said He. (Edited by Hu Pingchao with Xinhua Silk Road, hupingchao@xinhua.org)