BEIJING, July 7 (Xinhua) -- Foreign institutional investors remained net buyers of RMB-denominated bonds on China's interbank bond market in June, with their net monthly purchases at 101 billion yuan, showed statistics from China Foreign Exchange Trade System (CFETS).
In June, foreign institutions sold 307.1 billion yuan of bonds and purchased 408.1 billion yuan of bonds. Their cash bond turnover contracted 19 percent over May to 715.3 billion yuan, which accounted for about two percent of the market aggregate in June.
By different accesses, 295.1 billion yuan of their cash bond turnover was made through settlement agents and 420.2 billion yuan was realized through Bond Connect, a program between the Chinese mainland and Hong Kong allowing investors to trade bonds on each other's interbank bond markets.
By the end of June, a total of 455 foreign institutions conducted bond transactions on interbank bond market via settlement agents, five more than the comparable figure in May and 565 ones entered via the Bond Connect, 17 more than the month prior.
Among them, foreign commercial banks and securities firms were the active trading parities of RMB-denominated bonds on the interbank bond market. They favored still products with sound liquidity such as policy bank bonds, Chinese government bonds (CGB), and negotiable certificates of deposit (NCD), which took up 47 percent, 41 percent and nine percent of their total monthly turnover, respectively.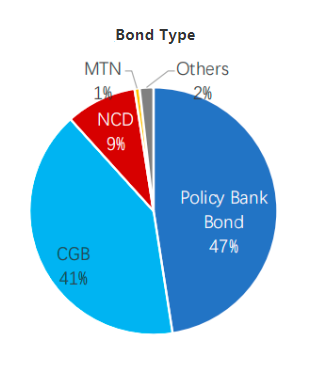 According to CFETS data, foreign institutions showed more interest in bonds with maturity of less than one year, one to three years, 3-5 years and 7-10 years, with respective turnover accounting for 27 percent, 15 percent, 18 percent and 30 percent of the total.
CFETS, also known as the National Interbank Funding Center, is a sub-institution directly affiliated to the Chinese central bank the People's Bank of China. As an important financial market infrastructure, it publishes market benchmarks, including RMB central parity rate, Shanghai Interbank Offered Rate (Shibor), CFETS RMB index, loan prime rate (LPR), RMB reference rate, bond indices, yield curves, etc., offering reference prices for the market. (Edited by Duan Jing with Xinhua Silk Road, duanjing@xinhua.org)