BEIJING, March 16 (Xinhua) -- Zoomlion Heavy Industry Science and Technology Co, (01157.HK), a leading Chinese maker of engineering and agricultural equipment, donated 50,000 face masks to Italy to assist its battle against COVID-19 last Friday.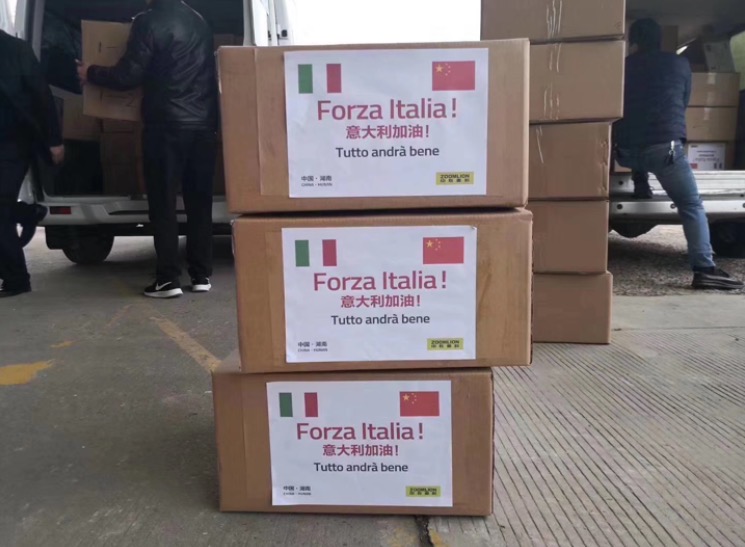 Photo: Zoomlion donates 50,000 masks to Italy for its battle against COVID-19 on March 13.

The first batch of face masks donated the Chinese company have departed from Changsha, capital of Hunan province where Zoomlion is headquartered, and arrived in Lombardy, Italy. The face masks will be delivered to local health authorities and then distributed to medical workers on the front lines to help the prevention and control of the novel coronavirus pneumonia pandemic in Italy, which is the most affected European country, with 17,660 infections overall and 1,266 deaths as of last Friday.
Zoomlion has previously made large-scale purchases of personal protective equipment (PPE) amid the epidemic in China. At that time, its employees worldwide, including those at CIFA in Italy, actively responded to assist Zoomlion in the purchase and transport of PPE and resuming domestic production in China. Now, Zoomlion hopes to provide aid and support to Italy, said the company.
The 50,000 EU standards-compliant face masks were all allocated by the government of Hunan Province and manufactured by companies across the province. Zoomlion coordinated the manufacturing, logistics, and customs clearance all within two days.
"On behalf of Lombardy, I would like to express my sincere thanks to Hunan province and Zoomlion for helping us during the emergency," said Giuliana Sabatino, a health official of Lombardy.
Zoomlion has established long-standing friendship with Italy. In 2008, the company has acquired CIFA, the world-famous manufacturer of concrete machinery, and over the past 12 years the two companies have perfectly integrated and produced a wide range of exceptional products with shared expertises, creating a world-class supply chain and a win-win market synergy.
Amid the epidemic in China, Zoomlion is among the first batch of equipment manufacturers assisting the fight against the virus. It has mobilized more than 250 sets of equipment to join in the construction of hospitals across China, including those in Wuhan, Hunan, Shenzhen, Henan, Guangxi and Tianjin, and donated more than 3 million units of medical supplies. (Edited by Gao Jingyan, gaojingyan@xinhua.org)