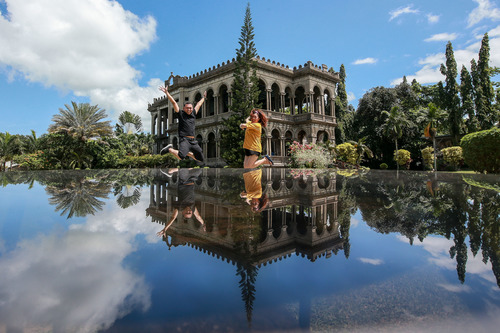 People pose for photo as they visit a touristot called The Ruins in Talisay City, the Philippines, Oct. 16, 2019. (Xinhua/Rouelle Umali)
The Philippines welcomes China's Belt and Road Initiative policy, Philippines has taken active participation in China's Belt and Road Initiative (BRI) . Correspondingly, the Philippines took action to become a full member of the China-led Asian Infrastructure Investment Bank (AIIB).
Philippines, island country of Southeast Asia in the western Pacific Ocean. It is an archipelago consisting of some 7,100 islands and islets lying about 500 miles (800 km) off the coast of Vietnam. Manila is the capital, but nearby Quezon City is the country's most-populous city. Both are part of the National Capital Region (Metro Manila), located on Luzon, the largest island. The second largest island of the Philippines is Mindanao, in the southeast.
Manila is the capital with a population of 1.78 million (12.8 for metro area).
The Philippines has an American-style democracy, headed by a president who is both head of state and head of government. The president is limited to one 6-year term in office. A bicameral legislature made up of an upper house, the Senate, and a lower house, the House of Representatives, make laws. Senators serve for six years, representatives for three.
The official languages of the Philippines are Filipino (which is based on Tagalog) and English. More than 180 different languages and dialects are spoken in the Philippines. Commonly used languages include Tagalog (26 million speakers), Cebuano (21 million), Ilocano (7.8 million), Hiligaynon or Ilonggo (7 million), Waray-Waray (3.1 million), Bicolano (2.5 million), Pampango and Pangasinan (2.4 million).
Due to early colonization by the Spanish, the Philippines is a majority Roman Catholic nation, with 81 percent of the population self-defining as Catholic, according to the Pew Research Center.
Source: https://www.thoughtco.com/the-philippines-facts-and-history-195655