FUZHOU, Nov. 29 (Xinhua) -- The foreign men football players participating in the KELME 2019 FISU University World Cup-Football ongoing in Jinjiang of east China's Fujian Province on Thursday visited Quanzhou of Fujian to experience the ancient Chinese craftsmanship and maritime culture.
Their first stop was Qingyuan Mountain where the most eye-catching is the stone statue of Lao Tze, a great philosopher and thinker in ancient China. It is learned that the statue, a treasure in the stone carvings of the Song Dynasty, has been listed as a key cultural relics protection unit in Fujian.
Photo: Footballers from Ukraine's Borys Grinchenko Kyiv University and Croatia's University of Split visit the stone statue of Lao Tze.
The stone carving is exquisite, said the manager of the men's football team from Croatia's University of Split, adding that it "must have taken a lot of time and patience, and a lot of creation" to finish the statue. He also expressed his willingness to know more about the Chinese culture and the Quanzhou culture in the next cultural visits here.
Footballers from Russia, Brazil and other countries also came in succession to visit the statue, listening to the story about Lao Tze and taking pictures with the statue.
After visiting the statue, they went to the Quanzhou Maritime Museum to appreciate the historical remains and witness the open, diverse and inclusive maritime culture and urban spirit of ancient Quanzhou.
It is learned that established in 1959 and as a national first-class museum, the Quanzhou Maritime Museum aims at showcasing the great contributions to the development of the maritime silk road as well as the great inventions in navigation and shipbuilding technology made by the ancient Chinese.
After visiting the cultural relics like anchors and ship models of various times, the No.6 player from Ethiopia's Kotebe Metropolitan University expressed his excitement to gain some knowledge about the shipping history of Quanzhou, saying the display in the museum is great.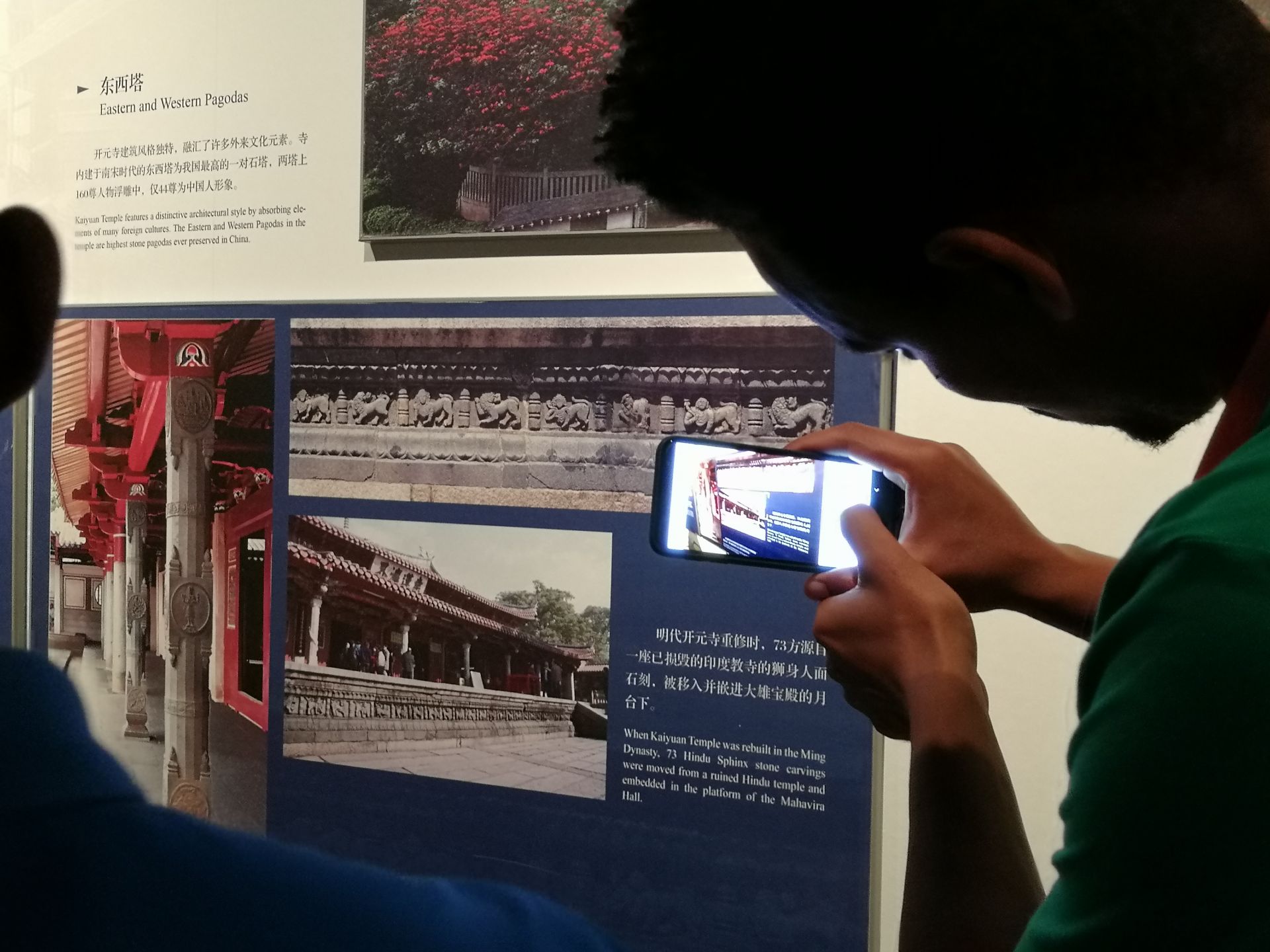 Photo: A footballer from Ethiopia's Kotebe Metropolitan University takes photos of the display introduction.
While experiencing the Chinese culture in the museum, a footballer from Brazil also taught the Chinese staff to speak Portuguese, his mother tongue, and guided the Chinese staff to say "Brasil" in Portuguese again and again, showing his desire for cultural exchange with the Chinese.
Quanzhou, a prefecture-level city that governs Jinjiang, is one of the first batch of national famous historical and cultural cities approved by China's State Council, and is known as the starting point of the ancient maritime silk road, boasting rich cultural heritages. (Contributed by Gu Shanshan)